From the perspective of an American worker who is being displaced it does not make a difference whether he is displaced by a visa-dependent company or a non-visa-dependent company or a 50-50 company or whatever: Nasscom president.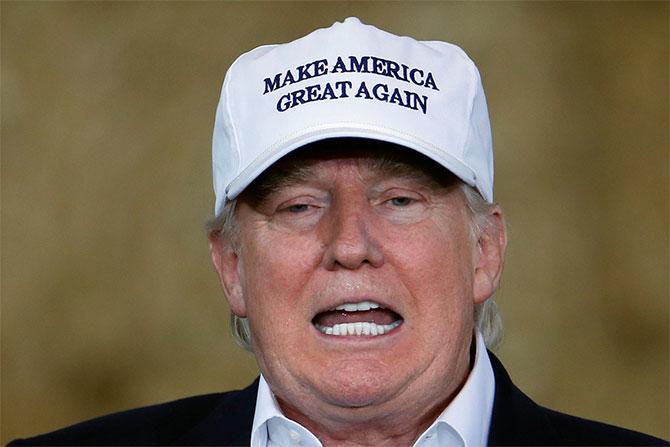 The debate in the US over H-1B visas has become a political and emotive issue as there is a "yawning gap" between the facts and perception, IT industry body Nasscom has said, contending that Indian IT firms contribute immensely to the US economy and jobs creation.
"This narrative has been going on for a while now that Indian IT workers come to the US and that they take away jobs, that in general they simply displace American workers and that these are low-paid, not even necessarily high-skilled people who are actually taking away jobs from better paid and skilled American workers," Nasscom president R Chandrashekhar told PTI.
Chandrashekhar was in Washington this week leading a delegation of IT industry body to engage with members of the new US administration on issues like clampdown on work visas and flow of skilled manpower between the two nations.
"That's really the kind of narrative which has got built up, sort of anecdotal examples are being cited, which also are not necessarily accurate. Because it has been presented with a mix of emotive anecdotal stories, I think a counter narrative and facts have really not been recognised. If you look at the facts, then the facts actually tell you a very, very different story," he said.
He said, "The data, not just our data, but the US government's own data also tells a very, very different story."
Chandrashekhar met a number of influential American lawmakers, opinion builders, members of think-tank community and the officials from the new Trump Administration and interacted with them on the H-1B visa issues.
The visit of the Nasscom delegation came in the wake of the ongoing debate in the US and reported moves by the Trump Administration to bring out an executive order to curtail the use of H-1B visas, widely used by Indian IT majors.
"The purpose is to put across our point of view so that a more balanced approach is enabled," he noted.
Chandrashekhar said the Indian IT industry actually contributes immensely to the US economy in terms of jobs that are created in America, both directly and indirectly.
"Close to half a million jobs have been supported in the US as of 2015. The number of jobs have also been growing at 10 per cent per year as against a two per cent growth in the rest of the job market," he said.
"The biggest contribution to jobs, of course, is what the industry provides in terms of services to US corporates, 75 per cent of the Fortune 500 companies, which enable them to be more productive, more efficient, and more globally competitive, and thereby helps them to be the job creation engine in the US," the Nasscom president said.
The Nasscom president argued that the services that the IT industry provides in the US actually create a lot of jobs.
"This in fact, aligns extremely well with President Trump's objective of having more jobs in the US. That's why the need to make this counter narrative well understood," he said.
"There is misperception that American workers and qualified American workers are being displaced by the recourse to a couple of anecdotal stories, whereas the reality is that there are 2.4 million jobs, which are unfilled in the US because they require STEM-qualified workers, and they simply aren't available," he said.
By 2018, the projection is that the number will touch 3.4 million, and half of them will be computer and IT related areas, he observed, adding that the unemployment rate among STEM (science, technology, engineering and mathematics) workers for computer and IT related skills is around two per cent.
"It is well known and recognised by all experts that anything under four per cent indicates a shortage. If it is around two per cent, then that indicates the extent of shortage. This myth that there are qualified people who are being deprived of a job is far from the truth," he asserted.
"The third aspect is, if you look at even the American universities, which are the source of skilled workers going forward, more than 70 per cent of the students in the STEM programmes are international students. Even if you wanted to hire from American universities, you'll still need a visa to hire those skill sets.
"These are the facts, and those are the perceptions. The gap between the two is wide, it's a yawning gap between the facts and the perceptions," said the top Indian IT leader.
In developed economies especially those experiencing slower growth, a certain level of unemployment among unskilled people, and at the same time, a shortage of skilled workers, he said is a "political dynamite".
"Because you are dealing with a shortage in one part and unemployment in another part of your workforce, and it requires extremely sagacious leadership to actually be able to formulate a more open-minded, balanced, far-sighted and pragmatic approach in dealing with this issue and differentiating between these two," he noted.
"From the perspective of an American worker who is being displaced it does not make a difference whether he is displaced by a visa-dependent company or a non-visa-dependent company or a 50-50 company or whatever.
"Why would such a provision, which is ostensibly to protect American workers be applied based on a definition which ultimately only singles out Indian companies. I think the argument is that this is not correct, and this is not even protecting American workers," Chandrashekhar said.
"I would argue that if the American workers are to be protected, then please protect them fully. Don't protect them by closing a side door and leaving the front door open," he said.