Facebook claimed that the number of comments in support of Free Basics to be more than 1.35 crore as against Trai's official figure of around 24 lakh.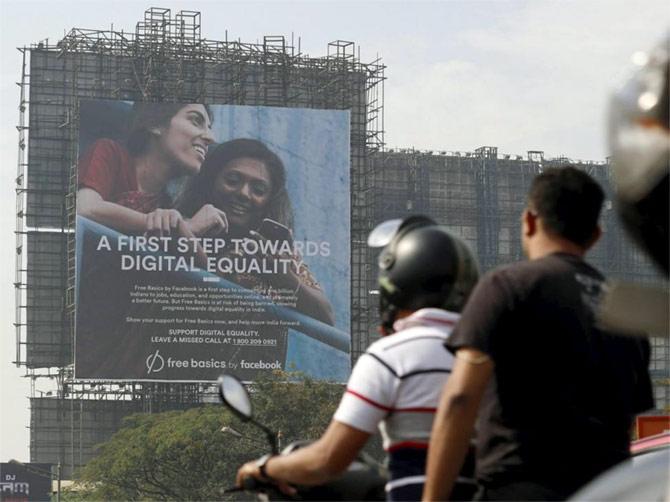 Image: Trai order is seen as a setback to Facebook, which had plans to roll out Free Basics. Photograph: Danish Siddiqui/Reuters
In a boost to net neutrality and a blow to Facebook and other operators offering differential data tariffs, telecom regulator Trai today barred them from charging discriminatory prices for web access.
In a far reaching recommendation, Trai proposed a penalty of Rs 50,000 for each day on service providers if they flout the order. This penalty would be subject to a maximum of Rs 50 lakh.
"No service provider shall offer or charge discriminatory tariffs for data services on the basis of content," Telecom Regulatory Authority of India (Trai) Chairman RS Sharma said unveiling the details of the regulations, effective Monday, titled 'Prohibition of Discriminatory Tariffs for Data Services Regulations, 2016'.
The new rules come amid a long-running debate on net neutrality wherein Facebook has been facing flak for its 'Free Basics' platform, while operators like Airtel have been at the receiving end for similar plans announced earlier.
The Trai order is seen as a setback to Facebook which had plans to roll out Free Basics, providing access to a limited set of websites for free. This was seen as undermining the equal-access precepts of net neutrality.
"Anything on Internet cannot be differently priced. This is the broad point that we have highlighted in regulation," Sharma said.
Plans which are active in contravention of the new regulations should cease to exist in 6 months, he said, adding that the new regulations have been notified in Gazette and are effective from today.
"No service provider shall enter into any arrangement, agreement or contract, by whatever name called, with any person, natural or legal, that has the effect of discriminatory tariffs for data services being offered or charged to the consumer on the basis of content," Trai said.
However, service providers have been allowed to reduce tariff for access in case of providing emergency services.
"We have not defined emergency services. But in case of such services, operators have to inform Trai within 7 working days," Sharma said.
Trai has rejected outright the idea of case-by-case approval to plans that may be priced differently as was suggested by a panel of officials at Department of Telecom.
When asked about telecom operators providing their own applications or services like music, movie applications at discounted or reduced rates to their subscribers, Sharma said: "Let's not talk about specific product or services. Anything available on Internet should not be priced indiscriminately."
If a service is being sold on the Internet at a price or free then it should be accessible for subscribers across all telecom networks without any differentiation or discrimination in the price, it added.
The regulator will review this regulation after two years or any earlier date which it may consider fit. "Two years is a big time in technology space. Review is a very natural process. We have provision to review in other regulations as well," Sharma said.
Commenting on the development, Software Freedom Law Centre Executive Director Mishi Choudhary said: "Differential pricing runs counter to this fundamental premise, which has had no small role to play in the Internet's explosive growth.
"In this context, Trai's latest regulations are a big step in the right direction, and secure India a position amongst the select few nations to have accorded legislative respect for the principle of network neutrality."
A debate on net neutrality stirred across the country after Airtel decided to charge separately for Internet-based calls in December 2014 but withdrew it later after people protested. The debate heated up after Airtel launched free Internet platform Airtel Zero and later Facebook also launched its Internet.Org platform, renamed as Free Basics.
Talking about difference of prices on the basis of Internet speed like 2G, 3G and 4G, Sharma said that Trai is discussing the same under draft direction to service providers for delivering broadband services in a transparent manner.
The speed of Internet is essential for accessing online videos, music and even for making Internet based calls technically known as VoIP calls.
This is the first ever regulation from Trai which saw record participating of 24 lakh people during the consultation round.
Facebook claimed that the number of comments in support of Free Basics to be more than 1.35 crore as against Trai's official figure of around 24 lakh.
"The concept of differential pricing inherently recognizes the economic principle of paying differently for different levels of service and experience like the differential pricing for the 2nd class, 1st AC, sleeper class, etc. based on different experiences and service levels.
"In the telecom sector there are virtual highways that need to follow the same principle," Deloitte Haskins & Sells LLP Partner Hemant Joshi said.
Facebook launched aggressive campaign to defend its Free Basics platform and advocated that zero rating plans can lead to increase in Internet adoption at no cost to the government, the content provider or the consumers.
It was available in India only on Reliance Communications network but the same was put on hold after Trai's order.
"Plans which are active in market, though may be in contravention of this regulation, have been allowed to continue for six months of their subscription. While framing this regulation, we kept in mind consumer protection," Sharma said.
The Indian IT Industry through Nasscom, Internet firms though IAMAI and many similar forums have opposed differential pricing of data or zero rating platforms. IAMAI members include Google, Facebook, LinkedIn etc.