At least 50 travel destinations would be developed as a "complete package" and states will be encouraged to set up a 'unity mall' for the sale of their products, Finance Minister Nirmala Sitharaman announced in the Budget on Wednesday, asserting that promotion of tourism will be taken up on a "mission mode".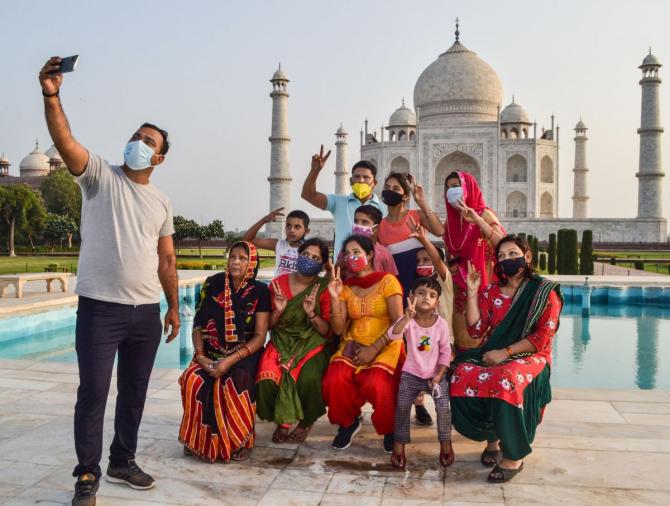 In her speech in Lok Sabha, she emphasised that the country offers "immense attraction" for domestic as well as foreign tourists and can be a major job creator.
"There is a large potential to be tapped in tourism. The sector holds huge opportunities for jobs and entrepreneurship, for the youth in particular," she said.
"Promotion of tourism will be taken up on a mission mode with the active participation of states, convergence of government programmes, and public-private partnerships," the Union minister added.
The finance minister said that with an integrated and innovative approach, at least 50 destinations will be selected through "challenge mode", and every destination would be "developed as a complete package".
"In addition to aspects such as physical connectivity, virtual connectivity, tourist guides, high standards for food streets and tourists' security, all the relevant aspects would be made available on an app to enhance tourist experience," the finance minister said.
The focus would be on domestic as well as foreign tourists, she asserted.
"States will be encouraged to set up a 'Unity Mall' in their state capital or most prominent tourism centre or the financial capital for promotion and sale of their own ODOPs (one district, one product), GI products and other handicraft products, and for providing space for such products of all other states," the minister said.
Besides, sector-specific skilling and entrepreneurship development will be dovetailed to achieve the objectives of the 'Dekho Apna Desh' initiative, she said.
"This was launched as an appeal by the prime minister to the middle class to prefer domestic tourism over international tourism. For integrated development of theme-based tourist circuits, the 'Swadesh Darshan Scheme' was also launched.
"Under the Vibrant Villages Programme, tourism infrastructure and amenities will also be facilitated in border villages," the minister added.
Union Tourism Minister G Kishan Reddy on Tuesday launched the Visit India Year 2023 campaign led by his ministry to encourage inbound travel to the country which is currently chairing the G20.
The minister also launched a logo of the campaign that draws inspiration from the visual representation of 'Namaste'.
The logo represents a "microcosm of the countless stories India holds" - from heritage to gastronomy to our art and our rich wildlife, and imbibes the country's philosophy of 'Atithi Devo Bhava'.
The tourism ministry has said that the G20 presidency presents a fantastic opportunity to highlight the country's tourism offerings.
India assumed the presidency of the influential bloc on December 1, setting the tone for the ministry's calendar this year.