In power, Mamata Banerjee has tried to bury the ghost of the past, but it might still be work-in-progress. Big-ticket and eye-grabbing (in terms of investment size) projects are still few and far between, reports Ishita Ayan Dutt.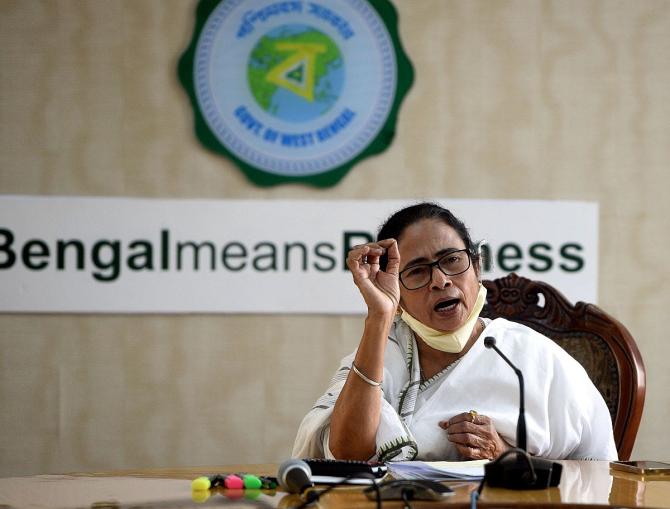 Udayan Das feels let down.
First, the Left Front acquired his 19-acre plot for Tata Motors' Nano factory in Singur and failed to set it up.
Then, the Trinamool Congress (TMC) returned the land to its original owners and promised agriculture, but Das still had his eyes set on industry.
Now, the Bharatiya Janata Party (BJP) has entered the scene with the promise of bringing back industry, albeit without a blueprint.
"Singur has seen a flood of promises from political parties.
"We want a written declaration from the BJP it wants to set up industry," Das, convenor of Singur Shilpa Bikash and Unnayan Committee (Singur Industrial Development and Welfare Committee), said.
Ahead of the election is the time when political parties normally descend on Singur.
BJP president Dilip Ghosh has promised that if his party comes to power, he would set up industry in Singur (elections are due in April this year).
In 2011, Mamata Banerjee rode to power in West Bengal, unseating the Left Front after a 34-year rule by supporting land losers who were "unwilling" to part with their land for the Tata Motors' Nano project.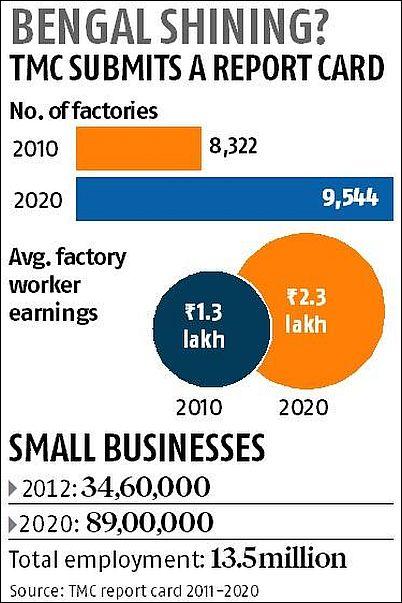 It ultimately led to the pullout from the project.
She has fought hard since then to shed her "rabble-rouser" tag and project the state as a business-friendly destination.
The TMC report card -- a tabulation of development projects and welfare policies released last month on completing 10 years of rule -- takes pains to highlight this point (see table).
Glitzy investor meets such as the Bengal Global Business Summit (BGBS) were started, which political commentators believe are important tools for marketing a state in competitive federalism.
The summits have seen participation from some of the biggest names from India Inc -- from Mukesh Ambani to Lakshmi Mittal and Sajjan Jindal.
According to state government estimates, these translated into investment proposals of around Rs 12.32 trillion over five editions.
The eye-popping figure has raised questions from critics, especially as industrial entrepreneur memoranda (IEMs) filed with the Department for Promotion of Industry and Internal Trade show: In 2018, 62 IEMs were filed with a proposed investment of Rs 4,722 crore; in 2019, 48 IEMs were filed with a proposed investment of Rs 5,844 crore; and up to November 2020, 21 IEMs had been filed with a proposed investment of Rs 8,791 crore.
But filing IEMs is not mandatory and not everyone may have done so, sources in the West Bengal government indicated.
Questions have been raised on investment proposals generated at the BGBS by West Bengal Governor Jagdeep Dhankhar as well.
He wrote to Banerjee last August seeking details of BGBS as he felt that the ground reality did not reflect the numbers.
But West Bengal Finance and Industry Minister Amit Mitra claimed that 40-50 per cent of the investment proposals announced at the BGBS were under implementation.
Under BGBS and even aside from it, there are projects and investments that are at different levels of implementation, he said.
JSW's cement plant at Salboni, which was set up under the current regime, is expanding — even though it's a shadow of the original 10-million steel plant and 1,600Mw power plant planned in the earlier regime (the Supreme Court cancelled coal blocks allocation and sealed the fate of the original project).
The group, however, may consider additional investment in paints and downstream steel units.
In the last few years, ITC has set up food manufacturing units at Uluberia and Panchla as part of its integrated consumer goods manufacturing and logistics (ICML) facilities.
Then there is the 200-acre proposed IT hub called the Bengal Silicon Valley, where a bunch of companies have taken up space.
TCS has taken up 20 acres to build a second campus (it employs more than 35,000 at the existing one); Reliance Jio has taken 40 acres for a development centre; and Airtel, too, has taken space.
Recently, the state Cabinet allotted land to Wipro for its second centre; in 2018, Infosys announced a new software development centre; Flipkart is setting up its first integrated logistics hub in West Bengal, which is expected to employ more than 10,000 people.
And there are others on the list.
A businessman pointed out that as more and more companies opt for work from home in the light of the Covid-19 pandemic, Bengal would be the most likely beneficiary with roles becoming location-agnostic.
That may not be surprising, given that it has long borne the baggage of brain drain and flight of capital.
Militant trade unionism and a slow-moving economy, through the 1980s and later, led several large companies and notable businessmen — the Mittals of Ispat, the Singhanias, Philips and Bata, to name a few — to move their headquarters or important divisions from Kolkata.
That was reversed to an extent by Banerjee's predecessor, Buddhadeb Bhattacharjee, who got a host of IT companies to the state, and retailers and manufacturing companies to consider big-ticket investment.
As political commentator Sabyasachi Basu Ray Chaudhury pointed out, "Buddhadeb Bhattacharjee's second term was the only electoral mandate for industrialisation."
But the land agitation movement in Singur led by Banerjee and the subsequent pullout of Tata Motors reversed those gains.
In power, Banerjee has tried to bury the ghost of the past, but it might still be work-in-progress.
Big-ticket and eye-grabbing (in terms of investment size) projects are still few and far between — Kolkata still often figures at the bottom half among major cities in terms of office space absorption.