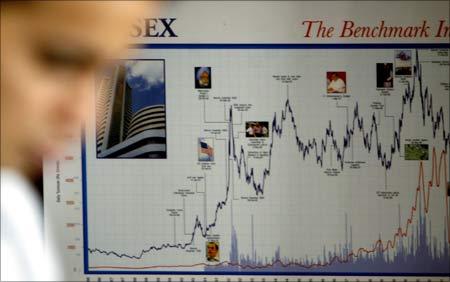 Deutsche Bank expects the Sensex to climb only 8% in 2017 to 29,000, and expects high volatility.
Dwindling foreign flows into the domestic market could mean lukewarm returns for investors in 2017.
Deutsche Bank expects the Sensex to climb only eight per cent in 2017 to 29,000, and expects high volatility.
In a conference, the brokerage's India equity strategists Abhay Laijawala and Abhishek Saraf shared their outlook for 2017.
Outlook for 2017
As we look into the rest of the year, we don't see as much clarity as we have seen in the past two-three years. This time, uncertainties are both global as well as domestic.
Our sense is the market will move in a narrow range during 2017, with recovery likely in the latter part of the year. This could change if the Budget surprises positively with tax-induced stimulus.
If this doesn't happen, the market might mirror the movement we have seen in September-December quarter, where FIIs (foreign institutional investors) were neither net-sellers nor uninterested in India, and locals were offsetting the selling pressure and contributing to market stability.
Investors gung-ho on the US
As a house, Deutsche Bank is very positive on US growth. We strongly believe US president-elect Donald Trump's economic plan will rebalance the policy mix and this will be a game-changer for the US. This makes us very bullish on US growth.
The US economy could move towards long-term equilibrium of higher growth, inflation, and interest rates. As a result, we like those sectors that are beneficiaries of strong US growth, stronger US banking and financial sector, and beneficiaries of a stronger dollar.
Does positive US mean negative India?
Yes. That's why we have said market will be volatile in the first quarter and probably also in the second quarter of 2017.
As and when president Trump goes out and starts articulating his economic plan, we could see a big upmove in the dollar. That will impact flows into emerging market.
By the second half, we will have clarity on US interest rates and perhaps FIIs will also start coming back.
Long-term outlook for FII flow
Growth can be inflationary.
During the course of the year, if any of president Trump's economic policies lead to stronger inflation in the US, then you could see more interest rates hikes in the US and in the developed world than what the market is anticipating right now.
That would mean FII flows or emerging flows may remain subdued for a very long time.
On possible stimulus in Indian Budget
A big cut in direct tax rate or change in tax slabs could excite the market. An overhaul of the direct tax structure could be game-changing.
However, the question is, does the finance minister have resources for this kind of a move. Other than that, there is little the budget can do to completely change the sentiment.
On mutual fund inflows
At the start of 2016-17, we saw some moderation in mutual fund flows. But in the past three-four months, they have picked up averaging about $1.4 billion a month.
A good part of this is driven by the more sticky SIP (systematic investment plan) flows. Although we don't have the exact number, anecdotally it could be 30-40 per cent of overall flows.
Image: The scene in a brokerage firm in Mumbai. Photograph: Punit Paranjpe/Reuters.