After a $110 billion rout in market value, embattled Adani group got some reprieve on Tuesday after shares of most of its listed firms rebounded on bourses and international rating agencies said there was no credit risk for lenders with exposure to the group.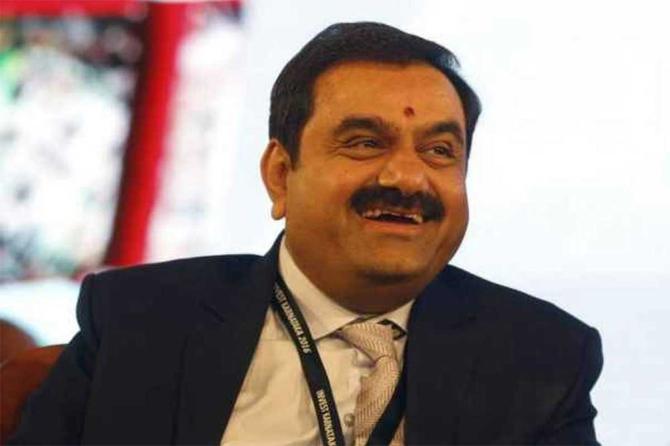 The group, which is in the midst of a political storm after US-based short-seller Hindenburg Research's adverse report dated January 24 triggered a meltdown in group stocks wiping out billions of dollars in market value, also had a mixed day with the quarterly results of four of its entities, particularly Adani Ports and Special Economic Zone reporting a 12.94 per cent decline in consolidated net profit to Rs 1,336.51 crore for the December quarter 2022.
Shares of flagship firm Adani Enterprises settled nearly 15 per cent higher at Rs 1,802.50 apiece while shares of Adani Wilmar jumped 5 per cent to end at Rs 399.40 on BSE.
Shares of Adani Ports & SEZ, Ambuja Cements, ACC and NDTV settled over 1 per cent higher on the exchange, a day after the group said the promoters would pre-pay $1,114 million for the release of pledged shares of its firms -- Adani Ports & Special Economic Zones, Adani Green Energy and Adani Transmission -- ahead of the maturity in September 2024.
However, four of the group firms defied the upward trend and settled in the negative territory with Adani Power, Adani Green Energy and Adani Total Gas tanking 5 per cent each, while Adani Transmission fell 0.77 per cent to settle at Rs 1,251.70 on the BSE.
Three of the group firms -- Adani Green Energy, Adani Power, Adani Total Gas -- closed on lower circuits on the bourse.
Meanwhile, global rating agencies Fitch and Moody's said banks' exposure to Adani group is not large enough to affect their credit quality, and bank ratings are driven by expectations that they would receive 'extraordinary' sovereign support, if needed.
"Fitch Ratings believes that Indian banks' exposure to the Adani group is insufficient in itself to present a substantial risk to the banks' standalone credit profiles," the rating agency said in a note.
Similarly, Moody's stated that although the exposures to Adani group are larger for public sector banks than for private sector banks, they are smaller than 1 per cent of total loans for most banks.
"Risks for banks can increase if Adani becomes more reliant on bank loans," Moody's said.
However, the group's access to funding from international markets can be curtailed because of heightened risk perception.
"Yet the overall quality of Indian banks' corporate loans will be stable," Moody's said.
The mixed fortune of the group on the day was also mirrored in the quarterly results of its entities with the country's largest integrated logistics player, Adani Ports and Special Economic Zone (APSEZ) posting a 12.94 per cent decline in its third quarter consolidated net profit.
APSEZ total consolidated income increased to Rs 5,051.17 crore in the December 2022 quarter from Rs 4,713.37 crore in the year-ago period.
On the other hand, Adani Green Energy's consolidated net profit more than doubled to Rs 103 crore in the December quarter from Rs 49 crore in the year-ago period, mainly on the back of higher revenues.
Its total income in the third quarter of the current fiscal rose to Rs 2,258 crore from Rs 1,471 crore in the same period a year ago.
Ambuja Cements, which was acquired by the Adani Group last year, reported a 13.2 per cent increase in its consolidated net profit to Rs 487.88 crore for the December quarter of 2022-23, up from Rs 430.97 crore in the year-ago period.
Its revenue from operations rose 3.69 per cent to Rs 7,906.74 crore as compared to Rs 7,625.28 crore in the corresponding quarter of the previous financial year.
New broadcaster NDTV Ltd, recently acquired by the group, said its third quarter consolidated profit was at Rs 12.9 crore, lower in comparison to the same quarter last year, primarily due to reduction in consumption of advertisement inventory across news genre.