Investor Rakesh Jhunjhunwala and his family's net worth in listed companies surges in the recent bull run.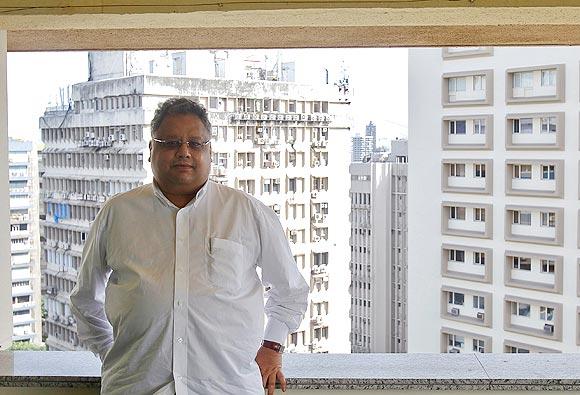 Ace investor Rakesh Jhunjhunwala and his family's net worth in listed companies crossed Rs 10,000-crore, thanks to a sharp rally in some stocks in their portfolio such as Titan Company, Aptech, Dewan Housing Finance Corporation (DHFL), Edelweiss Financial Services, Federal Bank and Escorts.
The combined net worth of Jhunjhunwala and his family came in at Rs 10,550 crore, based on market prices on the BSE as of Thursday. The figures are based on the family's holdings in companies in which its stake is more than one per cent for the quarter ended December 31, 2016.
As of December 31, 2016, Jhunjhunwala and his family's net worth stood at Rs 9,156 crore. On March 4, 2015, the day the BSE Sensex hit an all-time high in intra-day trade, it was Rs 8,620 crore (based on the March 31, 2015, shareholding pattern), the Capitaline Plus data show.
Since March 2015, Jhunjhunwala and his family added Tata Motors DVRs (3.43 per cent), Federal Bank (2.3 per cent) and Mandhana Retail (12.74 per cent) in their portfolio, while increasing their holdings in Aptech and Escorts.
The recent bull run in the broader market has boosted Jhunjhunwala and family's net worth more than the market capitalisation of DHFL, Century Textiles, Thermax, Strides Shasun, Dish TV and Union Bank of India.
Thus far, in calendar year 2017, the market value of listed companies in Jhunjhunwala and his family's portfolio appreciated by an average 15 per cent, as compared to an eight per cent rise in the S&P BSE Sensex.
"The secret of success for investors like Jhunjhunwala and Radhakishan Damani of D-Mart is that they could spot potential multi-baggers early and held on to the stocks for a longer duration than most investors would. This strategy does create a lot of wealth over time, unlike trying to make a quick buck by doing intra-day trading," explains G Chokkalingam, founder and managing director, Equinomics Research & Advisory.
Some stocks in Jhunjhunwala's portfolio, such as DHFL, Escorts, Federal Bank and Titan Company, are quoting at their respective record highs or close to lifetime highs. All these stocks have rallied in the range of 30-60 per cent since January.
The family holds equity shares of more than Rs 200 crore in each of these companies, according to the latest shareholding data.
In calendar year 2016 (CY16), Jhunjhunwala purchased 2.81 million equity shares of The Mandhana Retail Ventures via an off-market transaction. The shares amounted to 12.74 per cent of the total issued and paid-up capital of the company.
For a noble cause
Given that most analysts expect the markets to reach new highs, the ace investor's wealth is likely to grow.
Even then, Jhunjhunwala remains benevolent and pledged last year to donate Rs 5,000 crore or 25 per cent, whichever was lower, of his portfolio on July 5, 2020, the day he turns 60.
According to reports, he supports a number of organisations such as Olympic Gold Quest, Arpan, Agastya and Friends of Tribal Societies, an organisation of the Rashtriya Swayamsevak Sangh. The outfit goes to tribal villages and imparts education and health care.
Photograph: Vivek Prakash/Reuters.