Avoid fresh investments, as there might be more opportunities in the coming months, market experts tell Joydeep Ghosh.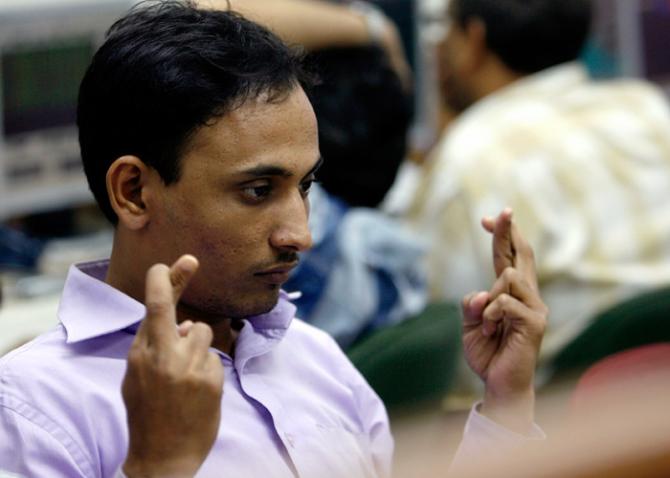 Photograph: Arko Dutta/Reuters
The BSE sensitive index, or Sensex, has seen a decent correction in the recent trading sessions. After falling 3.9 per cent in seven consecutive trading sessions, the benchmark index recovered a total of 0.4 per cent last Thursday and Friday.
Experts, however, feel there is more correction to come because the worries that markets have, such as the economy's growth pangs and global tensions, won't go away in a hurry.
Says Arun Kejriwal, investment consultant: "This is a healthy correction and has improved values in the short term. But, the medium-term correction isn't over still. Investors, if they are patient, could get good stocks at cheaper valuations in the days to come."
U R Bhat, managing director, Dalton Capital Advisors, believes there is strong support for the Nifty at 9,700 points. But, if that is broken, there could be worries.
For some time, he expects, the market could be range-bound, with a negative bias.
"I believe the Q2 (second quarter) earnings might be impacted due to the goods and services tax (GST) impact. However, the market expects that. What will be crucial is the December quarter corporate earnings. Things should start turning around by then," adds Bhat.
At present, several worries: Kejriwal feels there is a nervousness amid players which is yet to play out completely. The question: Where does this nervousness stem from? Several factors.
For one, analysts have been forecasting 15-18 per cent growth in earnings for many quarters, which alas, hasn't really fructified. And, according to experts, we will continue to play the catch-up game on the corporate earnings front for quite some time.
Then, the growth rate of the gross domestic product at 5.7 per cent, slowest in three years , is a serious worry. And, it is a classic Catch-22 situation as far as fiscal deficit -- the difference between the government's revenues and expenditure -- goes.
With the fiscal deficit already hitting 92 per cent of the full-year fiscal deficit (projected at 3.2 per cent in 2017-18) target, the ability of the government to pump prime the economy is limited unless it overshoots the targeted number. And, the latter has its own impact, as a UBS report has recently pointed out.
"A 0.2 per cent GDP boost is not that material for growth per se. A change in the fiscal consolidation road map has potential to hurt sentiment among global investors," it said.
While the government can use the fiscal push to revive growth, the quality of government spending (investment vs consumption) matters more, UBS said.
In addition, many feel the entire impact of demonetisation and the implementation of the GST will take a few more quarters to be absorbed. And, with the US and North Korea lobbing verbal insults at each other, global worries persist.
Investors should not panic: Says Motilal Oswal, CMD, Motilal Oswal Financial Services: "There is no need to panic. The market is going through a healthy and much-needed correction. This is a good opportunity to buy in small quantities."
And, small quantities, it must be.
Don't rush to put lump sum in a stock or mutual fund scheme just because the price or net asset value has fallen suddenly.
In case of the latter, you need to be even more careful because there are several funds that perform exceptionally well in a rising market, only to fall very badly in a falling market.
"Many fund managers take a very aggressive stance in a rising market and load their funds with high-risk mid- and small-cap stocks that give 100-200 per cent returns in a few months. Such funds see a sharp fall when things go wrong," says a fund manager.
Many experts also believe there will be more opportunities.
In the recent fall, good stocks like Asian Paints, Hindustan Unilever and Larsen and Toubro are down 8-11 per cent already. "There could be an extended sale period during Diwali this year as corporate results would continue to come in during that period and they are likely to disappoint," says Kejriwal.
Of course, there is no need to worry about your regular systematic investment plans. Continue with them. But don't get greedy and try to buy into the current market. Sometimes, doing nothing is a great strategy.