Under U K Sinha, Sebi became a pan-India organisation with local offices in 16 cities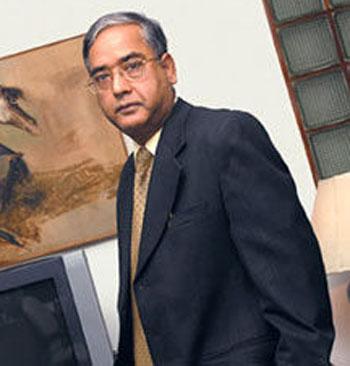 U K Sinha, in his last fortnight as the chairman of the Securities and Exchange Board of India (Sebi), was first recommended for the job in 2007-08. But, the search panel was overruled at the highest level. Three years later, the Bihar-cadre bureaucrat got his second chance and, he made it count by going on to get a two-year extension, defying precedence.
Five years is a long time in the stock market. The Sensex was around 18,000 levels when Sinha took over. It plunged to 15,000 levels that year and nearly doubled to hit a high of 30,000 in March 2015 before becoming listless.
Sinha's worst days, too, came in the first year of his term, when unprecedented allegations surfaced from board colleague K M Abraham. Sinha denied all the allegations and the finance ministry, which also figured unflatteringly in the letter to the prime minister, stood firmly behind him.
This seamless aligning of interests of North Block and Bandra Kurla Complex grew from strength to strength and became one of the key features of Sinha's term. That his predecessor C B Bhave did not have a very cordial relationship with the ministry was no secret. That, in turn, had affected the functioning of the regulator adversely with the ministry putting its foot down on key reforms in Takeover Regulations and listing of stock exchanges.
Within a few months of the 1976 batch officer's taking over, Sebi cleared the new takeover code. It also cleared the decks for more competition in the stock exchange space by wrapping up the legal tussle with Jignesh Shah-led Financial Technologies group.
One of the major challenges Sebi faced in those initial years was from entities doing money-raising activities from outside the regulatory framework. Although Sebi had successfully reined in the Sahara group, Sinha felt the regulator could do better with more powers such as access to phone call records and powers to search and seize.
The seasoned bureaucrat openly lobbied for more powers and got most of them even as he worked on improving the geographical spread of Sebi. For several years, Sebi had largely remained a Mumbai boy focusing only on stock markets and brokers. Under Sinha, Sebi became a pan-India organisation with local offices in 16 cities.
As Sebi has taken the additional responsibility of regulating the commodity markets last year, this national network and local presence would increasingly come into play. Sinha's successors and investors in remote places would reap the benefits of this ground work. Shutting of regional bourses is a work in progress, though.
His finest moment came when one of the leading financial dailies presented him the Business Reformer award for cleaning up the Initial public offering market and reviving the mutual fund sector.
Revamping corporate governance framework and insider trading regulations are among other achievements worth mentioning. Frameworks to regulate investor-facing professions such as research analysts and financial advisers were also put in place.
Cordial relations with North Block turned out a mixed blessing. On several occasions, the regulator was seen making tweaks to rules governing Offer for Sale, related-party transactions and minimum public shareholdings to suit the government's needs.
Sebi employees' morale took a severe beating as lower level officials were often called for enquiries by the Central Bureau of Investigation (CBI) for many decisions taken at the top floor. Matters such as Saradha, MCX and Bank of Rajasthan became subjects of protracted investigations, leading to the formation of a union.
Overall, given the many constraints the hot seat came with, Sinha did good. He would probably have done better, had he got there in the first attempt itself.