From 5G to Tesla to Covid vaccine, 10 things will shape India's future.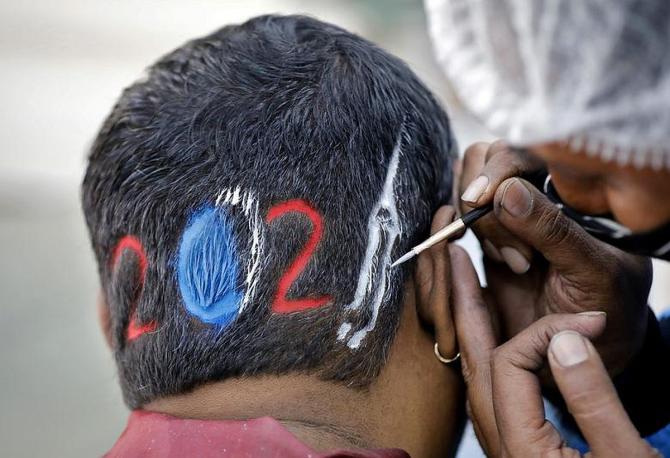 The year 2021 may turn out to be more of the same as 2020 in many ways, but there are at least 10 things that India is expecting to make the year look new. Here's how.
On a vaccine high
The Covid-19 vaccine will, of course, top the list.
Not only are pharma majors, regulators and government representatives burning the midnight oil on the subject, even dinner conversations are all about the jab.
The authorities have promised that the rollout would start in January.
A new owner for Air India
National carrier Air India will remain in the skies but with a different owner.
After some false starts, this round of divestment may work.
Initially, the Tatas put in their expression of interest, and so did a group of Air India employees in tie-up with US-based fund Interups.
Recently, Interups withdrew, leaving the ground for the Tatas to regain control of the carrier that it had founded decades ago.
5G is here
The talk around 5G has been going on for long but India is ready to take the plunge in 2021.
The auctions are likely sometime this year. Once telcos launch the service, it will usher in an era that will be all about connectivity for billions of devices in the areas of virtual reality, Internet of Things and artificial intelligence.
In short, it promises to transform our lives.
Tesla to set the tone
Elon Musk's Tesla is expected to make a debut in India this year with its Model 3.
Priced at around Rs 60 lakh, it's sure to set the mood for aspirational electric vehicles.
Back home, Tata Motors and Mahindra & Mahindra are preparing to launch new models in this segment as well.
Time for private trains
Private trains will be a reality too with multiple companies expressing willingness.
Among them are L&T Infrastructure Development Projects, IRB Infrastructure Developers, GMR Highways, BHEL and the Indian Railway Catering and Tourism Corporation.
Spain's Construcciones y Auxiliar de Ferrocarrriles has also responded to the rail ministry's call.
It will be action time in 2021.
Coal mining with a difference
Forty-seven years after coal mining was nationalised in India, private companies have entered the arena of commercial mining and sale of coal, alongside state-owned Coal India.
The Ministry of Coal is hopeful that some mines will be operational in the next 12-18 months.
Among the winning bidders were Adani Enterprises, Hindalco, Vedanta, Essel Mining of the Aditya Birla Group, Jindal Steel & Power, and several new and non-mining companies.
Dial zero for mobile
The way we dial a mobile number from landline or fixed line would change.
From January 15, one has to prefix '0' for making calls from fixed to mobile phones, according to the Department of Telecommunications (DoT).
This move is meant to free up numbering resources for future use.
Ballot games in states
As the pandemic enters its second year, politics will be central to many things, including the Covid vaccination and who bears the cost.
In that backdrop, four states and a Union Territory — West Bengal, Tamil Nadu, Kerala, Assam and Puducherry — are going to polls.
Who knows how the ballot game will play out and the changes it might bring.
A new page in corporate battle
While India Inc is getting used to work from home, the legal battles continue.
But 2021 is likely to bring some finality.
The missing selfies
Finally, this year is unique as most people, including the movers and shakers, woke up on January 1 at home or in a staycation villa within the country.
The Instagram and Facebook posts hardly have any global imprint this time, unlike in the previous years.