The final policy may be out only after formation of the new government, according to sources
Ilustration: Uttam Ghosh/Rediff.com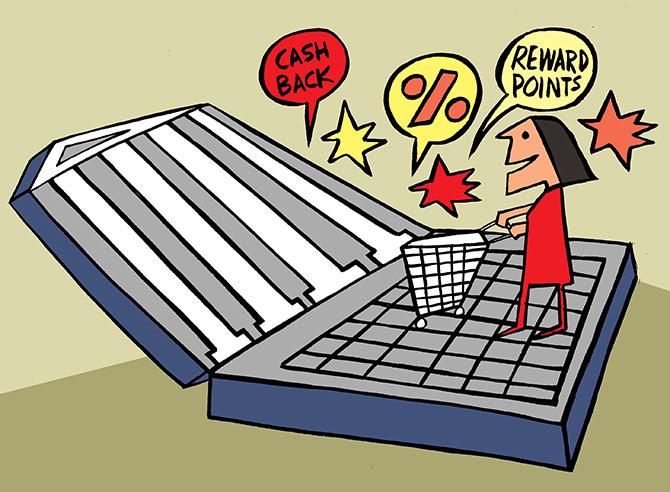 The proposed e-commerce policy, aimed at streamlining and regulating the digital business ecosystem, may not fructify this year, say sources.
The government was forced to go back to the drawing board after an initial discussion paper on the proposed policy was criticised by traders' bodies and consumers for being heavily tilted towards e-commerce firms such as Ola, MakeMyTrip and Paytm, among others, rather than consumers and small businesses.
With dates not yet being set for a new set of stakeholder discussions, and general elections round the corner, the final policy may be out only after formation of the new government, senior officials from the commerce department and other ministries said.
With multiple ministries arguing against the proposal and the Prime Minister's Office overseeing the deliberations, a new standing committee of secretaries held its first meeting last week.
"The decision to create a new committee was taken after it was found that meeting the initial October deadline for the policy would be untenable," an official said.
Also, for the last one month, foreign investors, venture capital funds and private equity players have been rushing to secure their investments.
According to industry estimates, these run over $75 billion, having been pumped into different digital commerce firms over the last decade or so.
According to sources, SoftBank Group, one of the biggest investors in the country, which has invested in companies including Paytm, recently wrote to the Niti Aayog and the commerce and finance ministries.
Added to this, a delegation of representatives from as many as 20 international funds, including Tiger Global, Sequoia Capital and PE investments firms based out of the United States, United Kingdom, Singapore and United Arab Emirates, among others, have also met officials across ministries.
"SoftBank reached out to the government and is asking it to make a fair and balanced e-commerce policy. In a scenario where almost 95 per cent of the capital in a company is pumped in by investors, they not having any say is a matter of grave concern for these global players," said a senior vice-president of a US-based investment firm.
Smaller venture funds also said they are in touch with representatives of major investors such as SoftBank Group and Tiger Global to rope them in the discussions they plan to have with the government.
"The government wants to ensure that it takes recommendations from foreign investors and international e-commerce firms.
"If you go through the list of companies and individuals involved in the making of the draft policy, you'll only see people from Indian companies," an industry insider added.
However, the commerce department has said that the new committee headed by department of industrial policy and promotion secretary Ramesh Abhishek will only look into overall issues in the e-commerce space from now.
"It will meet every month but the date of the next meet has not been decided," a senior government official said. Ministries of electronics and information technology, defence and finance, along with the Reserve Bank of India and Enforcement Directorate are part of the body.
Trader bodies such as Confederation of All India Traders and Swadeshi Jagran Manch have put pressure on the government, especially with regard to a proposal allowing limited foreign direct investment or FDI in inventory model based e-commerce.
In 2017, almost $21 billion worth of PE investments made its way into e-commerce companies and startups.
Experts believe that if the policy gives liberty to only the founders to call the shots, then the investors would not be able to recover their investments and earn a profit.