Retailers claim online firms' predatory pricing strategy disrupting business
Illustration: Dominic Xavier/Rediff.com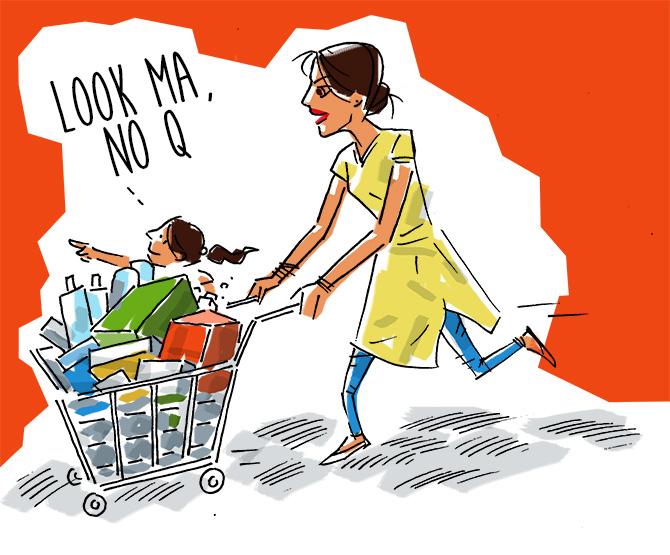 Traders, brick-and-mortar retailers and farmer rights' bodies are mounting pressure on the government to put an end to the deep discounting and predatory pricing strategy of e-commerce firms.
While the government has made it clear it would act against deep discounting and predatory pricing, trader bodies want the authorities to bring the much-awaited e-commerce policy at the earliest and not wait for elections.
"Predatory pricing methodology needs to be checked. It has destroyed and disrupted domestic business to a great extent. To have a control on the trade, and on economy, these companies are engaged in such type of activities.
"The absence of any policy mechanism is giving them leverage to play the market in their own likings. The government should immediately take necessary steps.
"Why to wait for elections? An e-commerce policy and a regulatory authority is need of the hour," said Praveen Khandelwal, national secretary general, Confederation of All India Traders (CAIT).
E-commerce firms, however, claim that they are following all norms and it is the sellers who are powering or bankrolling the discounts.
"Just like a mall that offers festive sales, we are an online medium where sellers and retailers come up with discounts.
"We have clear policies according to which we do not finance any discounting or push sellers to do so," said a senior vice-president of country's one of the largest e-commerce marketplaces.
The government on its part has made it clear that any new e-commerce policy will absolutely have a clause to shut down predatory pricing practised by the firms.
The draft e-commerce policy, under consideration by the government till about two months back, had proposed a sunset clause for predatory pricing policies that include 'zero payment offers', 'flash sales' and 'unlimited offers'.
It had also sought to define these practices and set fixed norms for each.
The industrial policy and promotion department (DIPP) is in the process of putting together a fresh draft of the proposed policy after the last one faced heat from both companies and civil society alike.
"We didn't face any major hurdle on the deep discounting clause because e-commerce companies, retailers' bodies and consumer groups agree that it is not a sustainable or healthy model of business. So, the new draft, whenever it comes, will absolutely have that clause," a senior DIPP official said.
After the commerce department was shown the door on the exercise of framing e-commerce rules, the DIPP is working on a new comprehensive policy that will focus on all aspects of the business, encompassing data privacy and taxation, apart from a host of technical aspects such as technology transfer, server localisation and connectivity issues.
But chances of a new policy being framed before the general elections next year remain low, officials warn.
Worldwide, developed nations wanted to start talks on a proposed set of rules for global e-commerce, fiercely opposed by India.
Over the past two years, rich nations led by the United States, European Union and Australia have continuously pushed for a proposed set of global rules on e-commerce. India has argued that the move would sideline discussions on food security and other development-based issues.
"While India should accept technology as it comes, we need to know which segments it will hurt the most. A disruptive move like this will see tech-driven commerce displacing a significant number of players, like small traders, in the traditional market as behemoths stand the chance of gobbling them up," trade expert and JNU professor Biswajit Dhar said.