Revenue growth guidance was cut to 5.5-6.5 per cent from 6.5-8.5 per cent in constant currency.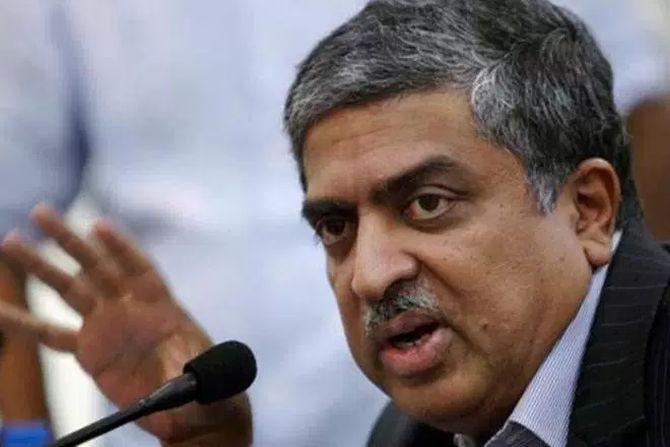 In the company's first quarterly earnings after co-founder and former CEO Nandan Nilekani returned and took over the reins of the IT major, Infosys on Tuesday reported a 3.4 per cent YoY growth in net profit at Rs 3,726 crore for the quarter ending September 30.
On QoQ basis, profit rose 7 per cent, the company said in a BSE filing.
Revenue was up 1.4 per cent to Rs 17,567 crore.
Infosys, however, cut 2017-18 revenue growth guidance to 5.5-6.5 per cent from 6.5-8.5 per cent in constant currency.
Infosys board under new chairman Nandan Nilekani gives clean chit to Panaya acquisition, says there is no wrongdoing.
Highlights:
Q2 revenues grew sequentially by 2.9% in USD terms; 2.2% in constant currency terms
Q2 revenues in INR terms grew by 2.9% sequentially; grew 1.5% year-on-year
Q2 operating margin at 24.2%, as compared to 24.1% in Q1 18
Q2 net margins improved to 21.2%, as compared to 20.4% in Q1 18
Q2 Basic EPS was Rs 16.30, sequential growth of 7.0% and year-on-year growth of 3.3%
H1 year-on-year revenue growth at 1.6% in reported terms; 5.5% in constant currency terms
Liquid assets including cash and cash equivalents and investments were at Rs 41,392 crore as on September 30, 2017
Utilisation excluding trainees at all-time high of 84.7%
Declared interim dividend of Rs 13 per share, compared to an interim dividend of Rs 11 per share in FY 17
FY 18 revenue guidance at 5.5%-6.5% in constant currency.
Operating margin guidance unchanged at 23%-25%
"We continue to focus on executing on the theme of software enabled services and on accelerating growth of our new services portfolio." said U B Pravin Rao, interim CEO and managing director.
"During the quarter, we responded quickly to the management and Board changes through proactive communication with all stakeholders minimizing any negative impact to the business and allowing us to deliver growth across all our large industry units."
Photograph: PTI Photo