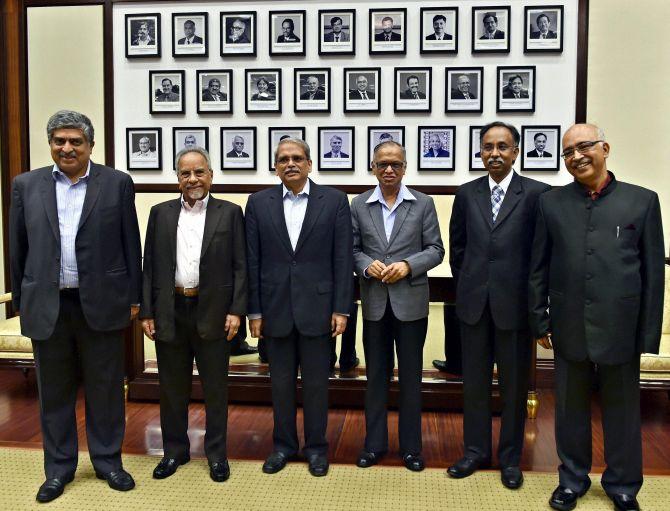 Image: Infosys Founders (from left) Nandan Nilekani, N S Raghavan, Kris Gopalakrishnan, N R Narayanmurthy, S D Shibulal and K Dinesh at Infosys headquarters.
Photograph: Shailendra Bhojak/PTI
Four Infosys co-founders, including Narayana Murthy and Nandan Nilekani, and their families on Monday sold $1.1 billion (Rs 6,484 crore) worth shares -- within months of all original promoters exiting the management and Vishal Sikka becoming the first outsider CEO.
While these four co-founders, which also include former CEO S D Shibulal and K Dinesh, have monetised only part of their holdings -- for entrepreneurship and philanthropic activities -- their action led to a sharp plunge of about 5 per cent in the IT heavyweight's share price eroding almost $2 billion from the company's market capitalisation.
A total of 3.26 crore shares, accounting for over 5.5 per cent stake in the company, were sold through multiple deals by Murthy, Nilekani, Dinesh and some of their family members, as well as wife of Shibulal.
Infosys, which currently commands a market value of about Rs 2.25 lakh crore, was founded by seven engineers, including these four, by pooling together just $250 in 1981, while all the promoters together held 15.92 per cent stake at the end of last quarter.
The shares were sold to domestic and foreign institutional investors at an average price of Rs 1,988.87, as per Deutsche Equities India, which executed the deals.
The sale has been done to partially monetise their stake, after more than three decades of setting up the company. Some portion of the proceeds will also be used by the founders towards philanthropic activities.
The shares have been sold at a time when the company has gone through a major governance and management restructuring. The last of the Infosys founders stepped down from the board in October this year, while former SAP executive Vishal Sikka has taken over as the CEO. This is the first time that someone other than the co-founders has been appointed as CEO.
Infosys shares have been up 21.4 per cent since the beginning of the year, but slipped 4.88 per cent to close at Rs 1968.60 at the BSE on Monday.