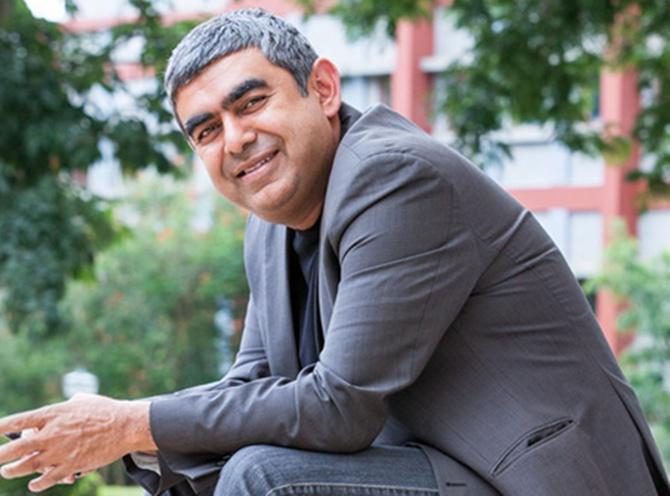 As Infosys kick-starts its three-day annual thought leadership summit Confluence, starting Wednesday in San Francisco, chief executive officer and managing director Vishal Sikka has reached out to the company's 194,000 employees saying that they cannot only be partners in the value creation at the company, but also share the value and get rewarded though a new mechanism.
In an internal e-mail to employees, Sikka said, FY17 is going to be a crucial year for the company.
The transformation journey will be driven by the number of initiatives the company has identified to pursue further during the year.
"As we do these things, we will all share in the value creation and the reward. We have already started the restricted stock units (RSUs), or options, grant programme, which I announced on April 15, and this is just the beginning," said Sikka.
"Krish (Human Resource Head Krishnamurthy Shankar) and our leadership team are thinking about a new way for Infoscions to participate in and benefit from the value they help create above and beyond our expected work.
"They are looking at this from multiple perspectives, and will update you on this soon," he added.
Apart from the usual salary benefits, traditionally Indian IT services companies also reward their employees with bonus, which is linked to the performance of the company vis-a-vis the individual performance.
Apart from this, offering RSUs has been one way of attracting and retaining key employees, even though these are mostly confined to the senior management.
Infosys, earlier this month, got its board's nod to offer 24 million shares as RSUs, which it aims to dole out to selected middle to senior management employees.
The scheme would be rolled out in April-June quarter of FY17 and would run for the next four-five years.
In his e-mail to employees, Sikka, who recently got an extension to lead the company until March 31, 2021, also spelt out the top five priorities of the company for FY17.
He said scaling and monetising of innovations and purposeful reshaping of costs through increased automation, reducing subcontracting costs and changing onsite-offshore role ratio would be of prime focus.
Without these measures, the company won't be able to get ahead with the downward pricing pressure that the company is witnessing now.
"We must bring precision to the things we decide to do and be unforgiving in the things we decide not to do.
We must bring massive automation to enable innovation.
If a human has done it once, it should never be done by a human again," he wrote in the mail. "This must be our aspiration."
In the quarter and year ended March 31, 2016, pricing cut (by clients) did not make much of a dent in Infosys's operating profit margin, which saw an improvement of 60 basis points at 25.5 per cent.
However, that was primarily driven by reduction in expenses towards subcontractors, improved utilisation and favourable currency.
The other priorities for the year would be, Sikka said, focusing on 'business hotspots' such as consulting, BPO, Finacle & Edge; continuing with various strategic initiatives such as artificial intelligence, platform, design services and education and onsite marketing experience using communication and digital.
SIKKA'S TO-DO LIST IN FY17
Hiring must match automation & software adoption
Enable skills-matching that is clear & precise, real-time & frictionless
Improving onsite role ratios
Reducing subcontractor costs
Rethinking of the global delivery model with a virtual one
Maximising utilisation and eradicating bench
FIVE PRIORITIES IN FY17
Scaling and monetising innovation
Purposeful reshaping of costs
Focus on business hotspots (such as consulting, BPO, Finacle, Edge)
Strategic initiatives (such as artificial intelligence, platform, marketplaces etc)
Onsite experience, communication, digital
Image: Vishal Sikka. Photograph: Kind courtesy, Infosys