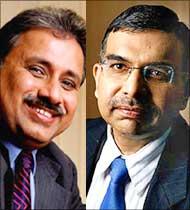 IT major Wipro on Thursday said it will pay Rs 7 crore (Rs 70 million) each to its former joint chief executives Girish Paranjpe and Suresh Vaswani as severance packages.
The board of directors of the company has accepted the resignation of Girish Paranjpe, and Suresh Vaswani joint CEOs (IT Business) and Director as a new board member with effect from January 31, 2011 and agreed to pay a severance pay of Rs 70 million each, the company said in a filing on the Bombay Stock Exchange.
Further, the company said packages are subject to applicable deductions as well as Directors remuneration and stock based compensation that goes with that position, till January 31, 2011.
A severance package is pay and benefits that an employee receives while leaving a company. The board's proposal is subjected to shareholders approval.
In January this year, while announcing the third quarter results, the company had said T K Kurien will replace Girish Paranjpe and Suresh Vaswani as the chief
executive officer of the IT business, a move aimed at simplifying its organisational structure.
Paranjpe and Vaswani, current joint CEOs of the IT business, stepped down on February 1, this year. Kurien will lead Wipro's IT business and will also be on the company's board as Executive Director.
Wipro Chairman Azim Premji had said, "The Joint CEO structure was one of the key factors that successfully helped us navigate the worst economic crisis of our times. With the change in environment, there is a need for a simpler organisation structure".
Vaswani and Paranjpe have been with Wipro for the past over 20 years and been an integral part of the Wipro leadership team.
"They have made significant contributions to the company in the critical years of its expansion and played a stellar role in the success of the IT business, Premji had said.
Image: Suresh Vaswani, Girish Paranjpe (L to R).