But the ban has not meant that Indian publishers replaced the Chinese in terms of ranking in the top ten.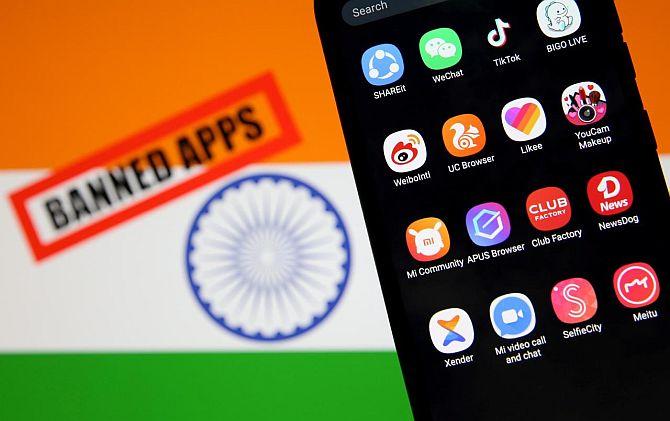 Eighteen months after the government started banning Chinese mobile apps, two distinct changes have occurred in the country's mobile app sweepstakes.
The move has given a thrust to domestic app publishers, especially in certain segments and it has dramatically reduced the market share of Chinese apps.
What started as an interim government ban on 59 Chinese apps, including the highly popular TikTok and WeChat in March 2020 ended as a permanent ban on many of them in January this year.
According to a China Internet Report 2021 (by South China Morning Post), the market share of Chinese apps in India has dropped substantially from 44 per cent in 2018 to only 29 per cent in 2020. In 2017 it was 41 per cent.
The government had pulled out over 150 apps in phases in 2020.
The report is in line with the proliferation of Indian apps that can be seen on various stores like Google Play Store.
This is particularly pronounced where Indian apps were able to replace the Chinese, i.e., in the areas where the Chinese were dominant players such as in short video social apps, messaging platforms, gaming, lifestyle (clothing and accessories) and shopping.
According to App Annie data, 50 per cent of the top 10 app publishers in the country in May 2020 were Chinese across all segments, just a month before the ban.
Indian publishers had only a 20 per cent share and top was NIC thanks to the Arogya app.
Then, with the Chinese out of the reckoning, Indian publishers were able to get a larger share of the ranking.
In September to date, 60 per cent of the top ten apps on App Annie are owned by them.
The social media space was once dominated by players like TikTok which successfully took on Facebook with its short videos and had over 119 million subscribers in no time.
Currently, 60 per cent of the top ten apps in this space in India, based on the latest September data of App Annie, are Indian publishers: MX Taka Tak, Moj, ShareChat, Josh and Public among others.
Most of them started out with short video offers and launched their apps only after June last year when the government imposed an interim ban on TikToK.
Chinese gaming app PUBG, for instance, was an overnight sensation.
At its peak, the game had over 34 million Indians playing daily and the downloads hit over 175 million.
But the ban has not meant that Indian publishers replaced the Chinese in terms of ranking in the top ten.
In fact, there is only one game, Ludo King, published by Gametion which is at number one in the top ten list of gaming apps based on App Annie in India.
The Chinese have been replaced by games from the UK, Hong Kong, Switzerland and other countries.
But the good news is the coming of age of India gaming app companies.
According to 42Matters, a global agency which tracks the app business data, till August this year, Indian gaming publishers now account for a reasonable 4 per cent (around 19,323) of the global gaming apps on Google Play Store.
And while monetization is still the challenge (only 2 per cent of the games are paid, compared to the global average of 4 per cent), as many as 86 per cent are advertising supported, as compared with the global average of 73 per cent.
The biggest of them all, according to 42Matters, is Gametion whose four gaming apps have been downloaded 629 million times.
Its nearest rival Words Mobile (which owns Football Field Kick) has been downloaded 500.95 million times with 27 gaming apps.
The impact of the Chinese ban on many fashion e-commerce platforms such as Shein and Club Factory (the latter had over 130 million active users out of 430 million across the world and 30,000 Indian sellers) has also been positive for Indian online shopping apps.
The latest data from App Anie shows that these fashion e-commerce platforms account for 70 per cent of top ten apps and include Myntra, Snapdeal, Ajio, and Meesho, among others.
In the mobile browser space, however, the ban on UC Browser has only strengthened Google's domination.
According to Statcounter, it had over 87 per cent of the mobile market in August, up from 81 per cent in August 2020.
Photograph: Dado Ruvic/Reuters