Sector added only 200,000 employees in FY16, down from 230,000 in FY15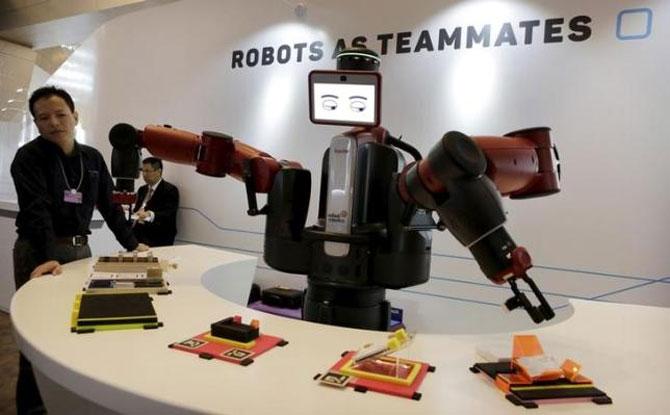 As new technologies such as automation, robotics and artificial intelligence take over low- and mid-level jobs in Indian IT companies, the IT sector is facing a serious challenge to its earlier role as a mass job creator. Companies will now have to look at new ways to ride on these emerging technologies to create smart job opportunities, say industry experts.
India's IT and IT-enabled Services (ITeS) sector have been cutting jobs over the past few years with increasing acceptance of technologies such as automation, making employees redundant and obsolete.
For instance, A M Naik, chairman of diversified conglomerate Larsen & Toubro (L&T) had said earlier this week that even though the attrition rate at its IT services subsidiary L&T Infotech stood at 18.5 per cent, less than 12 per cent of people normally leave voluntarily. The rest of them become obsolete, either due to inefficiency or due to their lack of technological knowledge, he had said.
According to a recent report by US-based research firm HfS Research, Indian IT services industry might lose 640,00 'low-skilled' jobs to automation over the next five years. By 2021, it said, the IT sector globally would see a net decrease of nine per cent in headcount, or about 1.4 million jobs.
Last year, industry body Nasscom in its report titled Nasscom Perspective 2025: Shaping the Digital Revolution predicted that human workers would increasingly be replaced by machines globally.
By 2025, about 260 million jobs, including those of knowledge workers as well as industrial and service positions, would be replaced or augmented by technology worldwide, it said in the report.
According to the data collated by Nasscom, the industry added 200,000 employees in FY16, compared with 230,000 in FY15, owing to rising automation, digitisation and other technology interventions. The Indian IT-BPM employee base touched 3.7 million in FY16.
While reduced workforce means cost advantage for IT companies, it is still a matter of worry for industry body Nasscom, which has underlined building capabilities as its main agenda for the next few years. The sector should design, develop and roll out a massive re-skilling programme to train and reskill 4-5 million people, Nasscom said in the report.
Indian IT players have, over the past few years, pressed the paddle for retraining its employee base as new technologies take centre-stage at clients' business environment. For instance, Tata Consultancy Services, India's largest IT services provider, is training 100,000 employees on digital technology.
Similarly, Infosys announced that it would train 40 per cent of its workforce in design thinking.
Accenture in a recent report said that intelligent machines entering business en masse over the next few years would provide organisations an unprecedented opportunity to unleash the true potential of their workforce of the future.
"As machines take on routine tasks like planning, scheduling and optimisation, managers will be freed to focus on strategic and more creative work, applying intuition and ethical reasoning to make the judgment calls that even the most advanced machines can't," said the report, adding that artificial intelligence would enable managers to make faster, more thoughtful and collaborative decisions.
"Unfortunately, many managers simply aren't prepared to make the transition. And, that's a problem. In a world that increasingly rewards speed, innovation and agility, the quality of 'judgment work' will quickly become a key business differentiator in the years ahead," it added.
Service disruption
Indian IT services sector may lose 0.64 mn 'low-skilled' jobs to automation over the next five years
By 2025, about 260 mn jobs will be replaced or augmented by tech worldwide, says a Nasscom report
Indian IT-BPM employee base touched 3.7 mn in FY16
Nasscom has underlined designing, developing and rolling out a massive re-skilling programme to train and reskill 4-5 mn people as a top priority over the next few years