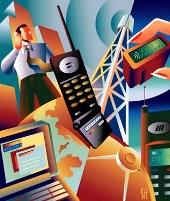 Parliament's Public Accounts Committee has summoned DB Etisalat chief executive officer Atul Jhamb, Shamik Das of S-Tel and Sigve Brekke, managing director of Unitech, in connection with 2G and 3G spectrum allocation case along with Ratan Tata, Anil Ambani and corporate lobbyist Niira Radia.

Radia, chairperson of Vaishnavi Corporate Communications and Tata, chairman of Tata sons Limited, have been asked by the PAC to appear before it on April 5 at 11 AM and 3 PM respectively to give 'oral evidence' on the subject 'recent developments in the telecom sector including allocation of 2G and 3G spectrum'.

Anil Ambani, chairman ADA, Reliance Communications Limited; Atul Jhamb, chief executive officer, Etisalat DB Telecom India Private Limited; Shamik Das, c, S-Tel Private Limited; and Sigve Brekke, MD, Unitech Wireless Limited have also been called to depose before the PAC on April 5 from 11
AM onwards.
All the sessions will be held in Parliament's library building.
In the revelations made by Radia tapes, the corporate lobbyist is heard influencing cabinet allocation in United Progressive Alliance-II and making efforts to ensure that A Raja (Dravida Munnetra Kazhagam) gets the Telecom portfolio. Raja is now in jail in the 2G spectrum allocation scam.