To increase focus on hiring people from diverse skillset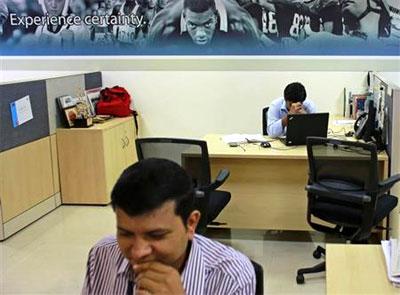 Ajoy Mukherjee, executive VP and global head HR at India's largest IT services provider Tata Consultancy Services (TCS) is undertaking a mammoth task of training one-third of its employees or 100,000 people on digital technologies. This is said to be one of the largest such initiative by any private firm in India so far.
The need and reason is obvious. With close to 12.5 per cent its total revenues of $15.5 billion (in FY15) coming from digital, which represents close to $2 billion, having trained set of skills is a necessity.
Bangalore-based Infosys too had announced an initiative to train 40 per cent of its workforce or 70,000 employees in design thinking by the end of this fiscal. So far 31,000 people have been covered by this programme at the company. But at TCS, 100,000 means almost one-third of its entire employee base.
For Mukherjee, learning within TCS is built on the mantra of 'anywhere anytime' accessibility. "We have been investing in digital. We believe that everything will be digital and hence everybody needs to be trained. And training has to be done at different competency levels. This will encompass employees from junior to senior levels," he added.
For this year though the company has announced a number of 100,000, but the long-term plan is to make sure all TCSers i.e., 324,935 will undergo this training.
Programmes start as small a video capsules for awareness called Nano that is offered to people in the sales and senior level, to more intense development and technology focused programmes for junior level employee to understand the technologies.
"The only way we can achieve this scale is by going digital and using the technology platform. The cloud-based platform developed in-house includes peer and social learning, and interactive classroom training with faculty supervision. We have created virtual labs where employees can get hands-on experience, followed by formal assessment. Each level will be assessed," said Mukherjee.
He also reiterated that content creation would be an ongoing process which will keep on evolving. For content, TCS has partnered with education institutes, partner ecosystem, product companies and technology platforms among others.
Along with this huge target of training 100,000 employees this year, Mukherjee added that at some point of time, each and every employee of the company will be undergoing these training. "We believe that everything will be digital and hence everybody needs to be trained," he added.
With the need to tap into the digital landscape, TCS which has stated that it will add 60,000 employees for FY16, will also be focusing on hiring more and more employees with diverse skillsets.
"We have been going to premium institutes for research and development for product development etc, mainly for the CTO's office. It is not just the technical mindset people that we want to hire, we also want people with different mindsets like data scientist, statisticians, who can co-relate things," he said.
Mukherjee also added that the company has been hiring people from pharma background for its clinical research segment.
"For designing apps, we get students with a design mindset, and we have been going to the National Institute of Design Ahmedababd. We are building the ecosystem. Now that the volume is increasing, we will need more and more people from such diverse skills," said Mukherjee.
For FY16 the company has already given offer letters to 35,000 engineers who are at various stages of joining in the company. For the first quarter of FY16, TCS had a gross addition of 3,877 employees overseas.
The digital learning exercise could as well also help the company stem its attrition rate that has touched a high of 15.9%. More that 80% of TCS's employee base comprise of Gen Y, where retention plays a major role.
Mukherjee acknowledges that given the number of opportunity that GenY has and the mindset this generation has, makes attrition higher. "What we have observed is that employees undergoing these programmes have immediately found projects to work on," he added.