Tata Steel has built an iron ore chest of nearly 600 million tonnes (mt) and will look for more as it prepares for life beyond 2030 when its legacy captive mines come up for auction.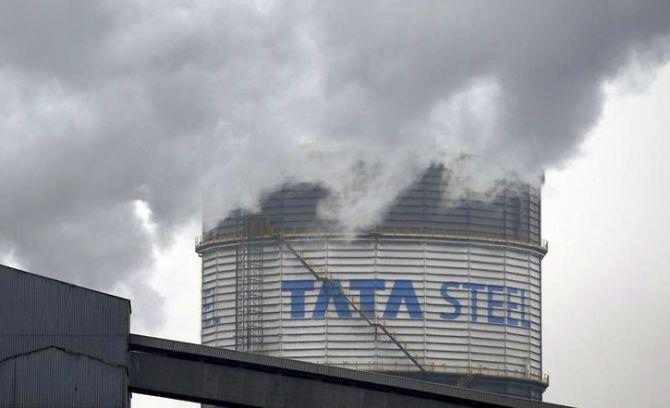 The lease for four of its existing iron ore mines -- Joda East, Noamundi, Katamati, and Khondbond -- that feed the domestic operation with low-cost iron ore is going to expire in 2030, following changes in mining regulations.
The year will also coincide with Tata Steel's ambitious target of doubling steelmaking capacity in India to 40 mt, increasing the need for iron ore.
The company is pushing the pedal to ensure that it has enough resources to meet enhanced needs.
T V Narendran, managing director and chief executive officer, explained that Tata Steel has amassed 550-600 mt of iron ore reserves, which will be available to the company beyond 2030.
"We bid for Gandhalpada mine, which is a greenfield mine and has reserves of about 300-350 mt.
"We will develop this mine, so that it comes into production closer to 2030," he told Business Standard.
Some mines came with the acquisition of steel assets over the past few years.
Tata Steel acquired Neelachal Ispat Nigam (NINL) last year, an asset owned by state and central public sector undertakings (PSUs).
That came with an iron ore mine having reserves of around 110 mt, apart from a large plot of land.
"The mine is at zero premium," pointed out Narendran, adding that it's one of the reasons for Tata Steel paying Rs 12,100 crore for the acquisition.
"Also, 110 mt is the known reserves, we are exploring to see if it's more than that," he said.
In 2019, Tata Sponge Iron, a subsidiary of Tata Steel, acquired the steel business of Usha Martin (Tata Sponge was renamed Tata Steel Long Products).
It had a mine with reserves of 25 mt. With the Bhushan Steel acquisition under the insolvency law, the steel major got another mine with reserves of 100 mt.
But the company is not going to sit tight with just the mining assets acquired so far.
"Between now and 2030, we will participate in more auctions in Odisha and Jharkhand and see if we can get more mines at a reasonable price."
"In 2030, we have the option to bid for our own mines.
"If we don't get anything by then, we can bid aggressively for those mines," he further said.
The expiry of mining licence is in line with a change in mining law.
In 2015, the Mines and Minerals (Development and Regulation) Act was amended and leaseholders of minerals, including iron ore for captive use, were allowed to continue with the licence until March 31, 2030.
"Coal and lignite were kept out of the purview of this amendment," said Jayanta Roy, senior vice-president, ICRA.
Iron ore and coking coal are two key raw materials for steelmaking. And 100 per cent of Tata Steel's requirements for India operations are met from captive sources, insulating it from price volatility and delivering strong steel spread.
About 1.6 tonnes of iron ore are required to produce a tonne of steel.
As Tata Steel increases its steelmaking capacity to 40 mt, iron ore production will also be stepped up.
The company's current steelmaking domestic capacity is 21.6 mt.
Production of coking coal will also be stepped up from 6 mt to 10 mt.
But Narendran said that Tata Steel would largely be a buyer of coking coal.
About 22 per cent of coking coal requirements for India operations were met from captive blocks at Jharia and West Bokaro in FY23.
While coking coal is mostly imported by steel players, it's the lower priced iron ore in India that is giving them an edge.
"Both China and India buy coking coal.
"But Indian iron ore is priced much lower than international markets which is working in favour of Indian steel players in terms of margins," ICRA's Roy added.
Steeling the future:
Mining lease for legacy mines – Noamundi, Katamati, Joda East, Khondbond – expire in 2030
Tata Steel has iron ore reserves of 550-600 mt beyond 2030
Mines that came with steel acquisitions:
Vijaya II - Usha Martin steel business
Koida – Neelachal Ispat Nigam Ltd
Kalamang - Bhushan Steel
Auction:
Gandhalpada - new iron ore mine bagged through auction (Tata Steel Mining won the bid)