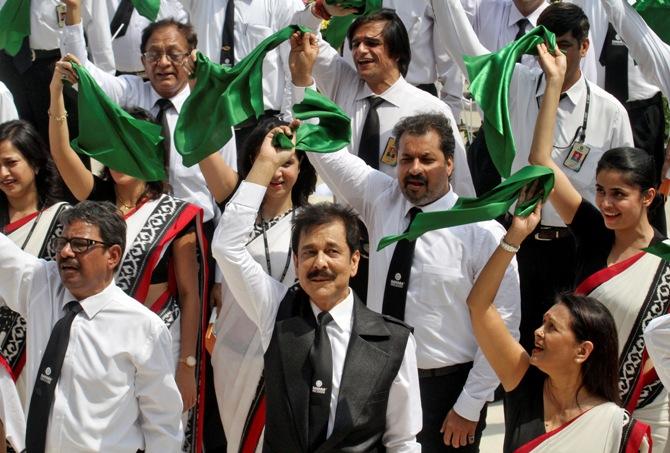 The Supreme Court on Friday reserved its order on interim bail plea of Sahara Chief Subrata Roy who pleaded to the court to show 'raham' (mercy) and allow him to come out of jail to sell off his properties to deposit Rs 10,000 crore (Rs 100 billion) with SEBI as directed to get regular bail.
"Raham is what is required now in this case. Today he has spend more months behind bars and his release would enhance chances of negotiation for sale of properties," senior advocate Rajiv Dhawan, appearing for Roy who has been in jail for over four months, submitted before a bench headed by Justice T S Thakur.
In more trouble for the Sahara group, the bench, in the meanwhile, asked the Income Tax Department to file an affidavit stating what action it has taken and what it is planning to take against the group after the department claimed that the company owed Rs 7,000 crore (Rs 70 billion) tax to it.
The bench granted two weeks time to file the affidavit."Permission granted to file additional affidavit within two weeks to give details of IT assessment made against two companies, action so far taken and proposed to be taken," the bench said asking the Department to also give details of any pending case against the group in this regard.
"Do not take easy route to say that you are here to assist the court. You need to draw strategy for taking action. You do not need our permission. You must exercise the power given to you. You have independent power so why are you not taking action. You must come out of inaction," the bench said when the Department submitted that it wants to assist the court in the ongoing proceedings.

The Department informed the court that it had issued notice to 800 depositors but only 137 so far responded.
"There are no depositors. That is why you are not finding any. The money perhaps has come from unknown sources. The money is unaccounted for and has been parked with the company," the bench said.
It also proposed to appoint an amicus curiae to assist the court in dealing with the case in which the group is supposed to pay around Rs 37,000 crore to wind up the proceeding in the court.
Roy pleaded that he be allowed to get out of jail on parole or on interim bail for at least 40 days to sell his properties to raise Rs 10,000 crore to get bail and agreed to dispose of luxury hotels Dream Downtown and The Plaza in New York and Grosvenor House in London.
65-year-old Roy, who was sent to jail on March 4 this year for non-refund of over Rs 20,000 crore to depositors, was asked by the court to pay Rs 10,000 crore to get bail, out of which Rs 5,000 crore in cash and rest of the amount in bank guarantee.
The Sahara group, however, had been claiming that it has already repaid money to 93 per cent investors. The apex court also asked SEBI on how it is verifying the genuine depositors and allowed it to publish advertisements in newspaper so that investors can claim their money.
Earlier, Roy had submitted that he may not be able to raise Rs 5,000 crore by selling assets situated in the country and urged the court to allow him to sell off overseas assets for which negotiations are going on.
Sahara has so far raised Rs 3,117 crore which has been deposited with the market regulator.