Even at early stage, start-ups are raising more money faster owing to the rise of a lot of specialised early-stage VCs and emergence of seed-stage programmes.
Illustration: Uttam Ghosh/Rediff.com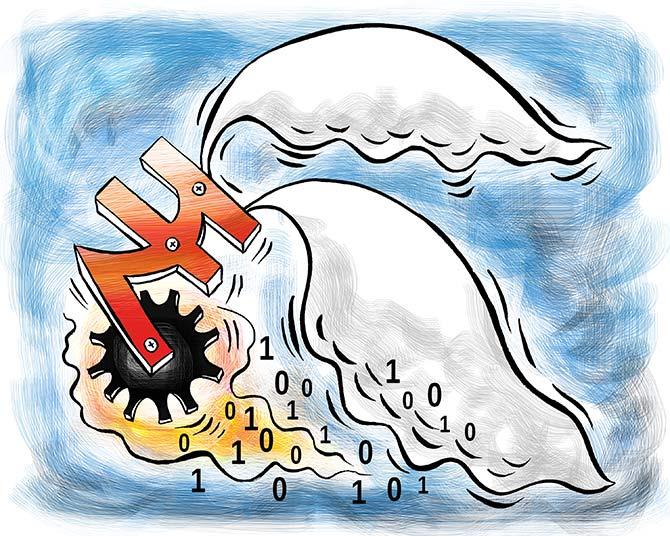 Despite a slowdown in the economy, start-up and tech businesses continue to see a steady rise in funding and valuations, and emergence of new ventures.
According to consultancy firm EY, private equity and venture capital investments in H1 2019 were 27 per cent higher at $23.4 billion compared to the same period last year.
At 536 deals, even the volume of deals is 43 per cent higher than last year.
"As per EY's forecast in the beginning of 2019, infrastructure and real estate sectors have taken the lead in attracting PE investments from marquee global investors," said Vivek Soni, partner and national leader, private equity services, EY.
The data points to a robust growth in PEs and the start-up ecosystem, at a time when falling auto sales, ballooning telecom sector loans and a bad debt crisis at major banks are causing a slump in traditional industries.
This, in turn, is putting black clouds over India's growth prospects in the near term. However, some observers point out that a funding glut is leading to a valuation bubble of sorts.
There is faster realisation of billion-dollar valuations. Udaan, a new business-to-business commerce platform, took just 24 months (since incorporation) to hit $ 1-billion dollar valuation.
This was trumped by Ola Electric, the electric mobility business spun off by Ola, which took just seven months.
The valuation of Byju's, which differentiates itself from the pack by being profitable, climbed to $ 5 billion from $ 1 billion in mere four months.
VCs seem to be upbeat. Tiger Global, one of the biggest foreign investors on Indian turf, has invested around $300 million across 13 deals so far this year.
Like Tiger, other major local and foreign investors are also bullish on India and opening up their purses faster than earlier, EY data shows.
"It is only when you are investing in consumer business the probability of winner taking it all is very high.
"Hence, capital playing a role and excessive valuations are justified in grabbing the marketshare," said Sunil Goyal, founder and managing partner, venture capital firm YourNest.
Even at early stage, start-ups are raising more money faster owing to the rise of a lot of specialised early-stage VCs and emergence of seed-stage programmes like Sequoia's Surge.
Start-ups graduating from programmes like Surge often go out and raise funds at high valuations.
Blume Ventures' director Sajith Pai said limited partners, the big guns who invest in VC and PE funds, are upbeat on India because of, as he puts it, "inevitability of the Indian market."
"This manifests in greater allocation by LPs to Indian funds, which mean more money chasing founders and rising valuations.
"It is also seen in more direct investments by the likes of Steadview or Softbank in Indian companies, bumping up valuations and often delaying imminent IPOs, in an attempt to extract as much of the value before the start-up goes public," Pai wrote in Medium blogpost this month.
However, valuations are not the correct indicator of growth or even success.
Snapdeal is perhaps an example; the company saw massive mark-downs after its acquisition talks with Flipkart went down.
Not only did the company have to downsize substantially, it led to erosion of profits for its investors, especially Kalaari Capital.
Globally, WeWork, which was seeking an eye-popping valuation of $ 47 billion for a proposed IPO, is only getting around $ 10-$ 14, and is said to be delaying the IPO, according to reports.
Uber, which was valued at $82 billion at IPO, has seen its stock decline 20 per cent since listing in May.
"Within the early stage, companies are keeping reasonable expectations in terms of valuations.
"The economic slowdown certainly has a role to play in this sentiment, but we are seeing that companies are not reducing growth targets by a significant measure - which is a very good sign," said Kshitij Shah, principal at 3one4 Capital, an early-stage investment firm.