While a three-year tax holiday and relaxation of capital gains for funds have been received favourably, others argue that not enough has been announced.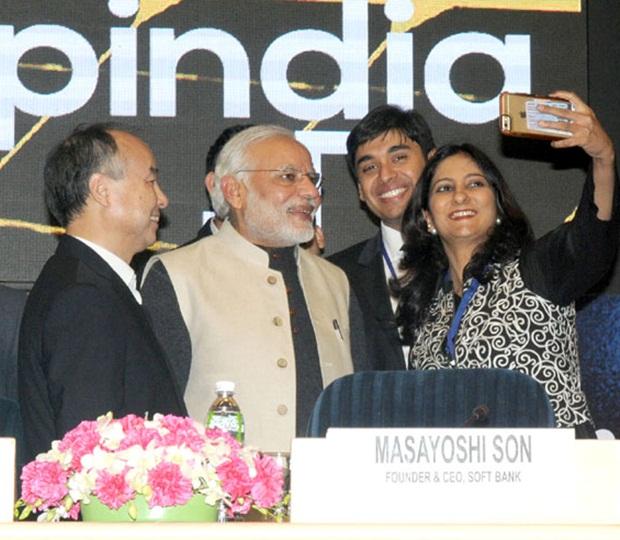 Image: Prime Minister Narendra Modi with SoftBank Founder Masayoshi Son, InMobi Founder Naveen Tewari and Mapmygenome Founder Anuradha Acharya at the Startup India event in New Delhi. Photograph, courtesy: Press Information Bureau
Tailoring policy to get the government out of the way of start-ups was the underlying theme at the StartUp India Stand Up India event hosted at Vigyan Bhavan in Delhi on Saturday.

However, implementation hurdles might dent the prospects of the policy, say experts.
Entrepreneurs and investors have largely responded positively to the announcements made.
"He (PM Narendra Modi) understands that start-ups are going to transform India in the next 10 years. Many policies were announced and while there are some more that are needed, they have said they will look at it because legal change is required," said TV Mohandas Pai, co-founder of Infosys and an active investor in start-ups.
While the three-year tax holiday and relaxation of capital gains for funds have been received well, some say attention has not been paid to solving larger problems such as keeping start-up companies (and the wealth they create) within the country.
"All the Unicorns (companies valued above $1 billion) are basically no longer based in India; they're Singapore-domiciled companies. Stop the re-domiciling and I think we have made some steps in that direction, although it fell short of many people's expectations," said Sharad Sharma, convenor of iSPIRT, the informal lobby group to promote home-grown product firms.
The government has been in talks with stakeholders in the start-up space to understand their problems.

Start Up India Action Plan

The start-up action plan is broadly spread to address issues in the short, mid- and long-term but the general sense was that longer-term initiatives, such as how the government plans to incentivise listing of companies in India, need more clarity.
"In terms of scope, I would say full marks. But, we always find in India and most parts of the world when a government tries to do something, from the intent to the actual execution remains to be seen. Clearly, there has been a lot of inputs taken from the stakeholders in the industry and it seems like the intent is very sincere to do the right things here," said Sanjay Swamy, partner at Prime Ventures.
Innovation and investments go hand in hand, but not enough was done by the government for the latter.
N R Narayana Murthy, co-founder of Infosys, who also runs his own fund, Catamaran Ventures, said the PM's move was great, since the sector would create massive employment in the years to come.
However, there wasn't enough "encouragement for investors", he added, hoping that vagaries surrounding exits are solved.
The announcements by the government were more than what a normal start-up would have expected, said Vijay Shekhar Sharma, co-founder and CEO of Paytm.
Nidhi Agarwal, founder and CEO of Kaaryah, termed the policy a 'well-rounded, well-structured and articulated'.
The move to simplify formalities for starting a business, funding, apart from tax relief were notable, said Ravi Gururaj, president of Nasscom Product Conclave.
The government itself became a start-up, according to Radhika Aggarwal, co-founder and CEO of Shopclues.
"The government has acted like a disruptive start-up. The policies around cleaning the licence raj will be a huge booster for the start-up community."
Entrepreneurspeak:
Sanjay Swamy: In terms of the scope I would say full marks but from the intent to the actual execution remains to be seen.
TV Mohandas Pai: We were all delighted and pleased that the Prime Minister understands that startups are going to transform India in the next 10 years.
N R Narayana Murthy: We need to encourage both investors from India and abroad because without proper investment, startups won't be able to succeed.
Sharad Sharma: All the Unicorns are no longer based in India, they're Singapore domiciled companies, so if you do more for startups, the only beneficiary is Singapore
Vijay Shekhar Sharma: It's like a populous budget on steroid for a startup. This is going to go a long way in the country to celebrate startups
GOVERNING RULES
Criteria for start-ups to get government incentives under Startup India Action Plan
The firm incorporated should be less than five years old
Annual Revenue of less than Rs 25 crore
Needs to get approval from inter-ministerial board to be eligible for tax benefits
Get recommendation from an Incubator recognised by government, domestic venture fund or have an Indian patent