Telecom companies are scrambling to acquire customers to fortify their defenses against Reliance Jio, but despite low tariffs, voice usage is not growing.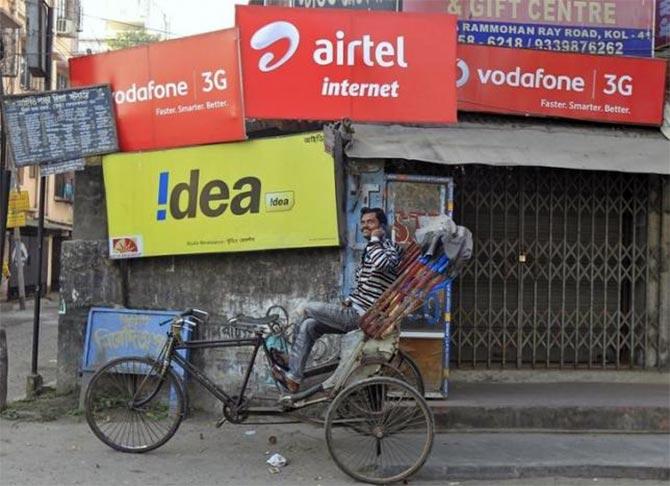 Image: Less voice, more data drive telcos into a corner. Photograph: Rupak De Chowdhuri/Reuters
Telecom stocks have been pummelled by investors in recent times.

While the BSE Telecom Index has fallen six per cent over three months, individual stocks have fared worse as operational metrics steadily deteriorate.
And it is not about Reliance Jio's entry. The voice business of India's leading telecom companies is in trouble, going by the numbers reported by them.
The voice businesses of Bharti Airtel and Idea Cellular, two of the largest listed telecom companies in the country, are facing challenges on almost all fronts.
While double-digit growth in data traffic dominates headlines, the voice business is the mainstay of these companies and accounts for nearly 80 per cent of their revenues.
Worryingly, neither is voice usage per consumer increasing, even though prices are down, nor are prices increasing in the face of burgeoning investments in spectrum and networks.
Typically, when prices decline, volumes go up but this elasticity is on the wane now.
"Frankly, if investments and tariffs are moving in two different directions, it does not make business sense. There is enough room to improve voice volumes, but as usage of data and data-enabled services grow, you will see some decline," says Vodafone CEO Sunil Sood.
Dimming outlook
The Street does not share Sood's optimism, nor do his peers.
After the December-ended quarter, most telecom analysts have trimmed earnings estimates for both Idea and Bharti Airtel, as voice realisations are unlikely to improve.
Less voice, more data drive telcos into a corner In the quarter, Bharti Airtel added eight million subscribers; as a result, its subscriber base grew 12.17 per cent year-on-year and 3.2 per cent sequentially.
However, minutes on the network grew 8.6 per cent YoY and three per cent sequentially.
And, usage of voice minutes per subscriber declined 2.7 per cent YoY to 405 minutes. Sequentially, minutes of use per subscriber remained flat.
A key measure of profitability is the revenue per minute that a telecom company clocks.
For Bharti Airtel, that has declined from 37.67 paisa in the December quarter of FY15 to 33.75 paisa now. Sequentially too voice realisations are down.
The story is no different for Idea, which saw total volume of minutes increase on the network due to subscriber additions.
Minutes per user grew by 1.28 per cent YoY and 1.8 per cent sequentially, but voice RPM declined 10.67 per cent YoY and three per cent sequentially.
Less voice, more data drive telcos into a corner The fight to capture consumers has vitiated the market.
In an analyst call, Himanshu Kapania, CEO of Idea Cellular, said: "As far as voice RPM is concerned, there is a fall of 10.6 per cent and if you'll ignore the impact of regulation where at least the impact is anywhere between 6.5 per cent and 7 per cent; there has been a drop on account of marketplace battle."
Clearly, ahead of the launch of Reliance Jio's service, telecom operators are in a scramble to acquire more customers, but this is not leading to higher minutes growth.
Instead, it has led to price cuts in the core voice business. Price cuts may have gotten companies new subscribers, but analysts believe these are low usage subscribers.
Also over time, subscriber additions will taper off and revenue growth will take a hit.
JPMorgan says Bharti Airtel's operating parameters continued to moderate in the December quarter. The brokerage expects its revenue growth to moderate in the coming quarters as subscriber growth tapers off.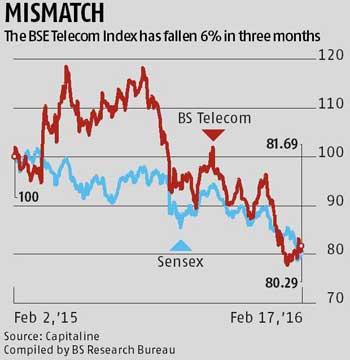 Need to move north
Less voice, more data drive telcos into a corner Bharti Airtel CEO Gopal Vittal echoed the sentiment in a call with analysts, "We also believe that the rates in terms of voice pricing are unsustainably low and need to move up. In the past, we've had serious competition from some of the smaller players. I think in the last quarter, we also saw significant competition from the leading players, and that has led to some decline in voice pricing which is a source of disappointment."
However, neither Bharti Airtel nor Idea has spoken about increasing tariffs, which may prove to be rather difficult for the industry because churn levels (rate at which subscribers disconnect from network) are very high.
Bharti Airtel reported a churn of 3.4 per cent during the quarter from 2.7 per cent in the corresponding quarter last year. For Idea, December quarter's churn rate was 5.3 per cent. Therefore, it appears unlikely that a tariff increase will happen anytime soon.
While Vittal believes that the industry collectively has to move towards a higher voice tariff structure, Kapania is of the view that voice tariffs have hit a base and that "...there is every logical reason for the tariffs to stay at the current level or increase."
The Street, however, believes otherwise. CLSA has lowered Bharti's consolidated revenue, Ebitda and profit forecasts by 1-9 per cent to factor in a higher realisation drop, Africa currency woes, lower estimates for Bharti Infratel, and the miss in profits.
UBS expects voice RPMs to fall by four per cent in FY17 and two per cent in FY18 against estimates of it remaining flat.
The brokerage has cut Bharti Airtel's earnings estimates for FY17E/FY18 by 9.5 per cent and 9.8 per cent, respectively, as it has taken a more conservative view on voice RPM and data yields.
Higher spends on capital expenditure and spectrum will further impact profitability. Idea revised its capex to Rs 7,500 crore (Rs 75 billion) in December from the earlier Rs 6,500 crore (Rs 65 billion) in FY16.
The company had guided for Rs 5,500 crore (Rs 55 billion) capex at the beginning of FY16. Bharti Airtel too has announced its Project Leap, under which it intends to invest Rs 60,000 crore to spruce up its network.
What will accentuate the pain is the launch of Reliance Jio's 4G service, which will offer voice over LTE. Data calls are three times cheaper than voice calls.
This will combine with the overall usage of voice minutes coming down, thanks to increased use of internet applications.

The pressure on voice will remain in times to come, making it difficult for companies to raise tariffs.