'Favourable treatment to selected areas has been a pattern throughout Uttar Pradesh. Locally powerful leaders get things done; other areas languish.'

A series on states:

Part 1: 'Andhra Pradesh is Gujarat of the East coast'
Part 2: Maharashtra remains India's richest state
Part 3: Madhya Pradesh: Quite a few scores, but many misses, too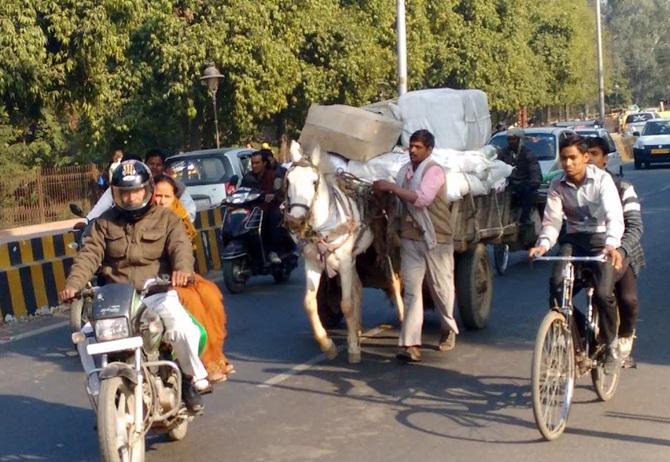 A display board in the chief executive officer's (CEO) rather modest chamber says "99 days to go".

There is a map outside, a glimpse of what is to come.

The CEO proudly signals commencement of the second phase, the first being on schedule and a trial run for it to begin in a few months.
The project is the Agra-Lucknow expressway, one of the most ambitious launched by the Akhilesh Yadav government in Uttar Pradesh (UP).
Connecting the tourist hub of Agra to the state capital through Ferozabad, Kannauj and Etawah, the 302-km expressway can boast of several accomplishments - from hassle-free land acquisition to speedy execution.
Nearly 3,400 hectares, involving 30,700 farmers, were acquired in a record time of six months, with very little resistance.
Construction commenced in January 2015 and is nearing completion.
The trial run is set to begin in October and the expressway will be opened to the public in December, informs Navneet Sehgal, senior IAS officer and CEO of Uttar Pradesh Expressways Industrial Development Authority.
He lists several "transformational" impacts, from better connectivity to greater market access to people of the region.
There are plans to build an information technology city, wholesale markets, integrated townships and dedicated freight depots along the stretch.
"Nearly 30,000 workers, 1,500 supervisors and 1,500 machines have been working round-the-clock at construction sites. We monitor the progress on a daily basis," says Sehgal.
Buoyed by farmer response, the government is going for an even bigger acquisition, of the nearly 3,700 hectares required for a Samajwadi Purvanchal Expressway, planned between Lucknow and Ballia in eastern UP.
"We hope to begin land acquisition for that next month," informs Sehgal.
There are critics. "The right question to ask for projects of such magnitude is not how smoothly land was acquired or how execution has been efficient. The right question is what is going to be the return on investment. On this, the Agra-Lucknow expressway doesn't score much," a senior bureaucrat told his colleague.
"There is no convincing economic logic for the project, other than the political benefits it might bring to the ruling party," another senior government functionary, privy to this discussion, told this reporter.
A political decision, it is. The expressway runs through a region considered to be a stronghold of the ruling Samajwadi Party (SP).
Nor is it the only development project that has a strong stamp of political authority on it. After a tour of the state, one gets the impression that the government machinery works efficiently in areas represented by political bigwigs.
"Rest assured about the power situation. Even if there is a power outage here, it does not last for more than five or 10 minutes," said a manager at an Etawah hotel, arguing the case for staying there.
Etawah happens to be the stronghold of SP chief Mulayam Singh Yadav. This is a state with power cuts of eight to 10 hours a day in most places.
Those and other chosen areas are blessed with almost uninterrupted power.

"Yahan sab chakachak hai. Bijli ki koi kami nahin hai (Everything is fine here. There is no power cut)," scores of people told this reporter in Rampur.

The city happens to be the home base of another SP strongman, Azam Khan.

While most of the roads in Rampur are waiting for urgent repair work and some are work in progress, the one leading to the residence of the man is in fine condition.
"Favourable treatment to selected areas has been a pattern throughout the state. Locally powerful leaders get things done; other areas languish. Economic development in the state, therefore, takes cue from the political map," says a Lucknow-based commentator.
Roads and electricity have been two focus areas of the Akhilesh Yadav government.

The state plans to spend 21 per cent more this financial year on roads and bridges.

Cumulative allocation to the sector in the past two years has been nearly Rs 27,000 crore (Rs 270 billion).

On power, the state signed to join the Centre's Ujwal Discom Assurance Yojana scheme earlier this year, taking over nearly Rs 40,000 crore (Rs 400 billion) of distribution entities' debt.
The government also plans to spend Rs 6,000 crore (Rs 60 billion) on improving of power distribution and another Rs 7,000 crore (Rs 70 billion) on feeder separation.

On the back of these plans, it has promised at least 16 hours of power in rural areas and 22 hours in urban areas by this October.

It plans to augment the availability from the existing 11,000 megawatt (Mw) to 21,000 Mw.
"We have been hearing about such promises for nearly four years. The power situation continues to be grim and it is likely to remain so till the transmission and distribution network is completely overhauled. As a result, places like Noida and Ghaziabad have become places for real estate speculation alone, as no worthwhile investment has happened in the past 10 years," says a retired bureaucrat.
However, as the countdown for legislative Assembly elections has begun, the state machinery seems in overdrive, speedily executing politically relevant projects. That is the impression one gets after visiting some districts.
BUCKING THE TREND
UP government's twin focus: roads and electricity
Rs 15,000 Agra-Lucknow expressway nearing completion
Trial run to begin in October; will be open to public from December
The process of acquiring 3,700 hectares of land for Samajwadi Purvanchal Expressway connecting Lucknow to Ballia to begin next month
State signed up for UDAY scheme in January
Allocation made for feeder separation and overhauling of distribution network
Claims to augment power availability, from the existing 11,000 Mw to 21,000 Mw by October
Promises to provide 16 hours of electricity in rural areas and 22 hours in urban areas