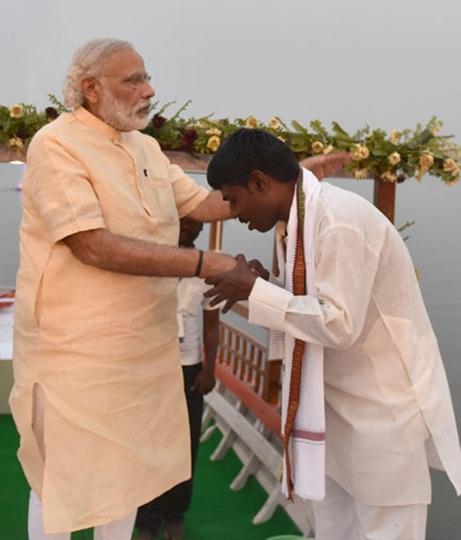 Image: the Packaging of the NDA goals is now giving it a new dimension. Photograph, courtesy: Press Information Bureau
In the run-up to the 2014 Lok Sabha elections, Arun Jaitley, then contesting from Amritsar and now Union finance minister, had said in an interview to Business Standard: "We will roll out the red carpet for industry, replacing the red tape that has been prevalent during the UPA (United Progressive Alliance) regime.''
That was a defining line for the Bharatiya Janata party-led National Democratic Alliance (NDA) as it came to office.
Cut to May 2016 as the government is celebrating two years in power and the narrative has changed. Venkaiah Naidu, minister for urban development and parliamentary affairs, told this newspaper: "Our agenda is development for all — gareeb (poor), mahila (women), yuva (youth), kisan (farmers)…''
What Jaitley said in 2014 and Naidu two years later aren't necessarily contradictory.

However, the packaging of the NDA goals is now giving it a new dimension. That has prompted many to think there has been a transition from a business-focused ('suit-boot ki sarkar') to a more populist government for the masses.
A top former civil servant, now on prominent company boards, said the pro-business image was more to catch the popular imagination after five years of UPA-2, when industry was disillusioned by the so-called "policy paralysis''.

Perhaps, it was more optics than real, he said. "No shrewd politician can be genuinely right of the centre. In fact, in the next 20 to 30 years, any government in India is likely to be left of centre.''
Indeed, Prime Minister Narendra Modi, who as Gujarat chief minister was considered close to certain business groups and industrialists, has hardly been seen with any Indian business head.

His interactions with international business personalities, especially from the world of information technology and start-ups - Facebook's Mark Zuckerberg, Amazon's Jeff Bezos, Google's Sundar Pichai, Microsoft's Satya Nadella, Apple's Tim Cook and so on - are documented.

However, Modi is not known to have met big businesses of the country, other than in events where he announced signature schemes like Make In India and the tycoons had queued.
Apart from being conscious of his image (a reason why he's comfortable being clicked with international CEOs but not so with Indian industrialists), Modi as PM has also realised that governance at the national level is far more complex than in any state, say political pundits.
"There are very many effective stakeholders here at the Centre. They could be as diverse as political opposition, bureaucracy, defence forces, diplomats, independent regulators such as the Reserve Bank of India,'' an analyst pointed out. Also, Modi must have realised that the political configuration and therefore political management is very different at the Centre compared to the states, he added. Even the judiciary is new for him to deal with as PM. So, there's a definite change from being a chief minister to a PM.''
As for transformation from pro-business to pro-people, people familiar with his CM days believe that coming from Gujarat, industry was known to Modi. "So, he was positioned like that. That was a plank, and a signal. Now, he's looking at mass appeal.''
But, according to Naushad Forbes, president of the Confederation of Indian Industry, it's not an either-or issue.
"While it's important for a government not to be close to industry as it might lead to crony-capitalism, it is important for it to be pro-market,'' he said.
Forbes added that there's no disconnect between steps that are pro-market and pro-poor; it's a myth that these are opposites.
"Pro-poor does not have to mean subsidies and giveaways. Rather, it should mean development and opportunities. The discourse should shift from offering subsidy to creating opportunities. ''
Although few in business spoke of any major transformation or transition in the Modi government from 2014 till now, they admit that expectations were very high when the NDA took charge.
Now, one is taking a realistic view as many things still need to be done, in areas such as taxation, foreign direct investment rules and ease of doing business, among others, they said.
The focus of this government is now almost completely on the social side, a bureaucrat said.
"No big revival of the economy is likely anytime soon, another reason for the government to pursue social agenda to return to power in 2019.''
With legislation such as a national goods and services tax nowhere near passage, the social agenda seems to work more than the economic one.
Harshavardhan Neotia, president, Federation of Indian Chambers of Commerce & Industry, thinks the government has done a fair bit in policy but there's a long way to go.
Also, "Yeh dil maange more, always," he said, and added that business had not fully sensed the result of the steps taken by the Modi government because of the moderate rate of growth, huge idle capacity in companies and global slowdown.
That will change once the capacity stress in companies improves, there's a good monsoon (after two bad ones) and public investments yield fruit, Neotia felt.
The designer suit that Modi wore with his name printed intricately in the pin stripes while doing a joint address with US President Barack Obama last year was something the PM could have avoided, as it gave an impression of this government being the opposite of pro-poor, said onlookers.
Even so, Rajiv Kumar, senior fellow at the Centre for Policy Research, argues several steps this government has taken in the past two years are inclusive but not necessarily populist.
He named the Jan Dhan Yojana and direct benefits transfer for cooking gas as examples. The Modi government has not really sacrificed good economics and efficiency to stay in power, Kumar believes.
Modi has learnt a lesson or two from the Vajpayee government after all, he added.
The India Shining kind of marketing blitz that the Atal Bihari Vajpayee government brought as an election plank in 2004, and which boomeranged, will be kept at a safe distance under Modi, for sure.
PM SPEAK
On January 30, 2016, at the ET Global Business Summit
Does this difference in language reflect a difference in our attitude? Why is any dole for industries called incentive or subvention, while for farmers it is derogatorily called subsidy?
On October 2, 2014, at the launch of the Swachh Bharat Mission
The work is to be done by all Indians. This campaign is for 1.2 billion people and, I repeat, it 1.2 billion times. This work is not only about a prachar abhiyan. It is a big effort but we have a lot of time.
At Urja Sangam on March 27, 2015, marking the beginning of the #GiveItUp campaign
I had made a small mention about giving up LPG subsidy. As many as 2.80 lakh people have responded positively... and this will lead to a saving of at least Rs 100 crore. This Rs 100 crore can be utilised for the welfare of the poor.
On August 15, 2014, during his Independence Day speech from the Red Fort
I can promise you. If you work 12 hours, I will work for 13. If you work 14 hours, I will work for 15 hours. why? Because I am not a Pradhan Mantri but a Pradhan Sevak.
At Madison Square Garden on September 28, 2014
People ask what is your vision, What is your big vision? I say bhai, I got here by way of selling tea. I am a simple man. I like focusing on simple and small tasks. I want to accomplish big things for the little guy.