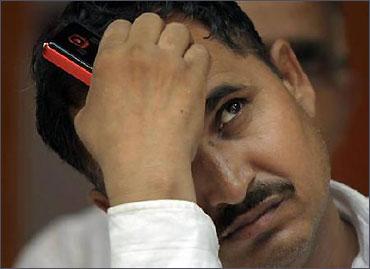 Even as the Indian benchmarks, the BSE Sensex and Nifty 50, crumbled over three per cent today, experts are optimistic about the Indian economy and believe investors can still make 30 per cent plus returns in 2015, reports Prasanna D Zore/Rediff.com
Global tailwinds – sharp drop in crude prices indicating a slowdown in the global economy just to list one factor – combined with unfavourable technicals of the Indian markets led to the 3 per cent plunge, believe stock market experts and an economist Rediff.com spoke to.
They said that India's economic fundamentals are in fine fettle and this coupled with a strong recovery in the US markets are good signs for the market players.
Why the sell off
"The sell off in Indian equities today was collateral damage," said Deven Choksey, managing director, K R Choksey, a Mumbai-based brokerage firm.
Choksey is of the opinion that global investors were making good the losses they had made in international markets by booking profits in the Indian markets. "The fall has nothing to do with the (India's) fundamentals or crude oil," he asserted.
Independent stock market analyst Ambareesh Baliga observed that the Indian stock market was due for a correction (a fall in indices after a sustained rise for a period of time).
"The Nifty had gone up from 6,000 to 8,600 without a major correction. The maximum correction we saw was just about four to five per cent. In any structural bull market a 10 to 15 correction is considered healthy," he said.
Baliga attributed the 250-point cut in the Nifty to international factors: sharp fall in crude price and the fear that Greece snapping out of the Euro zone could lead to a contagion in the European Union.
"We cannot look at India in isolation. The fall in oil prices is a positive in as much as it will help contain India's fiscal deficit. But oil prices falling beyond a point, in the present case say beyond $65-70 per barrel, begin to create disequilibrium in oil-producing nations. That starts hurting growth," he added.
"The possibility of Greece snapping out of the Euro zone also led to some sort of panic in the market today," he said.
S P Tulsian, yet another independent stock market expert, however differs in his take on why the markets crashed over three per cent today. He doesn't peg today's fall to Greece's woes.
"Greece is a small economy. If you want to attribute some reason we can always do that. I don't think Greece played any role in today's sell off," Tulsian said.
According to him, weak global markets and weakness in crude prices despite a substantial 50 per cent fall from the peak of more than $100 per barrel led to the sharp reaction. Another factor that added fuel to the fire in the latter part of the trading day was the paring down of overleveraged positions created by market participants. These players had built big positions in the last one week anticipating strong FIIs inflows beginning this Monday. When this failed to materialise, these players went on a selling spree.
"When the technical factors take over you need to analyse the technical levels in the market. The market is definitely not over-owned. It is definitely under-owned. I am not sure if this is an over sold market but by tomorrow it may become over sold as well and then some sort of buying will emerge. If that happens one can expect a sharp recovery," reckons Tulsian.
Technical analyst Vijay Bhambwani echoes Tulsian's views on the technicals being responsible for the sell off today.
"One must watch out for 7750 on the Nifty," he warned. However, even if the correction continues Bhambwani doesn't see the Nifty lower than 7,500. "The ongoing correction could be capped at 7,500, which is a little over 12 per cent off the recent highs of 8600 on the Nifty."
Strong economic fundamentals
However, all these market participants are optimistic about the Indian economy and believe the Union Budget this February will lay down the foundation for 7 per cent plus GDP growth rate in the financial year 2015-16 (begins April 1, 2015 and ends March 31, 2016).
Debopam Chaudhuri, chief economist at ZyFin Research, a macro-analytics firm focused on emerging markets, said he is confident the Indian economy is poised to take off.
"I see India's index of industrial production (IIP), (an indicator of economic activity) strengthening this month onwards," said Chaudhuri. He also expects a revival in India's manufacturing sector, and firming up of exports to the US because of a weaker Indian rupee against the dollar.
The fact that the incumbent government has cut down on non-plan expenditure to clip the fiscal deficit augurs well for the revival of Indian economy, Chaudhuri added.
"Government is doing significantly well in consolidating the fiscal deficit, non-plan expenditure has come down significantly, production of intermediate goods like aluminium, copper, iron ore is going up and port activity has increased signaling a pick up in exports," he said explaining why he feels the economy will pick up steam going ahead.
However, Chaudhuri reckons that the most important factor going in India's favour is the marked improvement in consumer and investor sentiment.
"Around 55 per cent of our GDP comes from private spending. This was not there for the last three years. That is turning around," he said.
Chaudhuri is expecting a GDP growth of 6 per cent this fiscal and 7 per cent plus in 2015-16.
In fact, it is not just domestic fundamentals that will aid the bull-run in India's stock markets. The US markets too have staged a strong comeback riding high on consumer confidence that has looked up after a four-year downtrend and decline in US unemployment rate for four months at a stretch.
"This recovery will help many countries that are dependent on the US for their exports. Once the global growth engine starts chugging fine, it will pull along with it the rest of the world."
Talking about the sharp decline in crude prices indicating global demand slowdown, Chaudhuri said that the (fall in) current crude price is not sustainable. He aggress that the slowdown in some emerging and developed economies is leading to drop in demand. "But once they pick up steam, demand for crude will also pick up and ensure some upward correction in prices."
"What's more," Chaudhuri says allaying concerns of a global slowdown, "The Global Stress Index has been indicating that overall global economic stress is on the downside indicating no major economic slowdown."
Advice for long term investors
While the economy is on a mend, the stock market will follow soon and here's what the investors should do now, opine Tulsian, Baliga and Choksey.
"Already the value has started emerging on a stocks-specific basis," says Tulsian. While he refrains from giving stock-specific ideas, Tulsian says he sees value in the auto, auto ancillaries and some of the non-banking finance companies (excluding the housing and power finance companies).
Tulsian's take
Do your homework well
Keep faith in the Union Budget which will be very progressive and forward looking.
Define you risk appetite and hone up your courage to face volatility. If you can't handle volatility then keep booking profits after every five per cent gains
Keep only five to seven multi-bagger stocks in your portfolio with a three to five year investment horizon
No stock will become a multi-bagger in one year. You need at least three to five years for stocks to give you significant returns
Specific stocks can give you 30 per cent plus returns this calendar year
The problem with this market is, investors don't sell when the markets go up and they don't hold stocks when the market falls. You need to fine-tune your attitude
Baliga's take

Looking at the long term India story, the following days might give you a good opportunity to enter the markets if you have missed out on the rally in the last eight to 10 months.
Every major correction should be looked at as an opportunity to buy into Indian equities. This is the time to look at India growth story. Look at the sectors that will contribute to India's growth, like infrastructure, capital goods, power sector that will be India-centric.
If we are talking of GDP growth rate of 8 to 9 per cent in the next three years then these sectors will be the major participants in that growth story
Choksey's take
The growth proposition is already built in and in the next 8 to 10 quarters growth will manifest itself. Market is convinced about the long term prospect of the Indian economy.
Banking, auto, infrastructure and agriculture sectors should do well
Photograph: Reuters