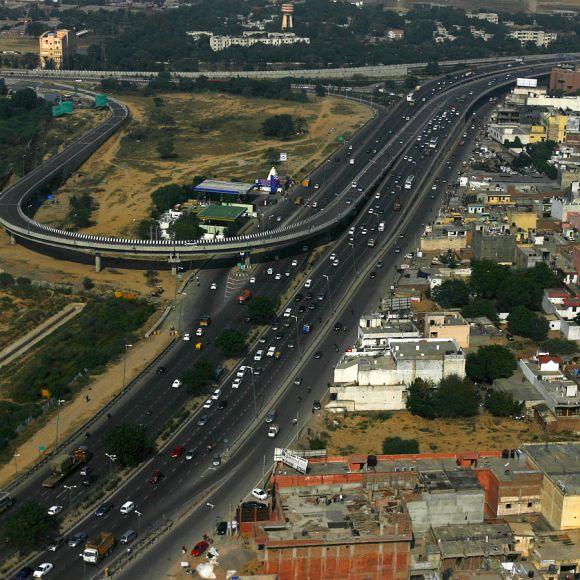 Image: A picture taken from the window of passenger airplane shows traffic on a road in New Delhi.
Photograph: Fayaz Kabli/Reuters
With rapid urbanisation taking place in India, cities play an important role in the economic development of the country.
To analyse and evaluate contribution of cities to the economy, an international think tank has come up with The India City Competitiveness Report.
The Institute for Competitiveness has rated 50 Indian cities based on parameters such as physical infrastructure, availability of skilled manpower, diversity of firms, and governance.
Let's take a look at the top 10 on the list of most competitive cities.
Delhi
Rank: 1
Delhi has secured the title of the most competitive city of India fifth time in a row. The largest commercial centre in the North, Delhi is hub to services industries such as information technology, telecommunications, hotels, banking, media and tourism.
The city looks unbeatable on parameters like, physical infrastructure, skilled manpower, diversity of firms and good governance, says the report.
The only area where the city lags is administrative and institutional support, which can affect the performance of the city over a period of time, observes The India City Competitiveness Report.
Mumbai
---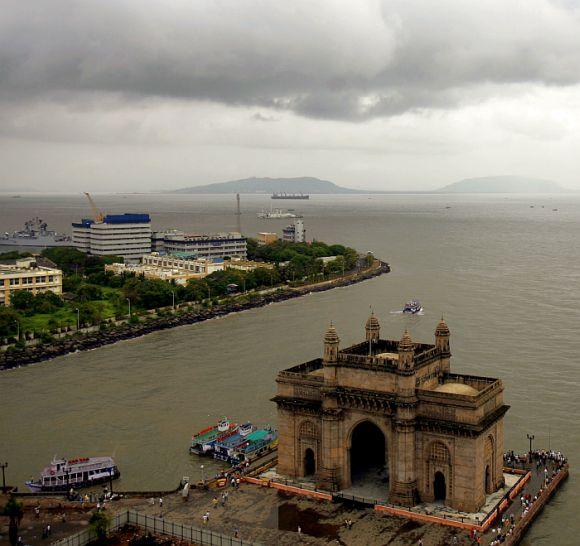 Image: Monsoon clouds gather over the Mumbai skyline.
Photograph: Punit Paranjpe/Reuters
Rank: 2
India's financial capital is also one of the country's wealthiest cities. It has an excellent transportation network and a good business environment.
Gurgaon
---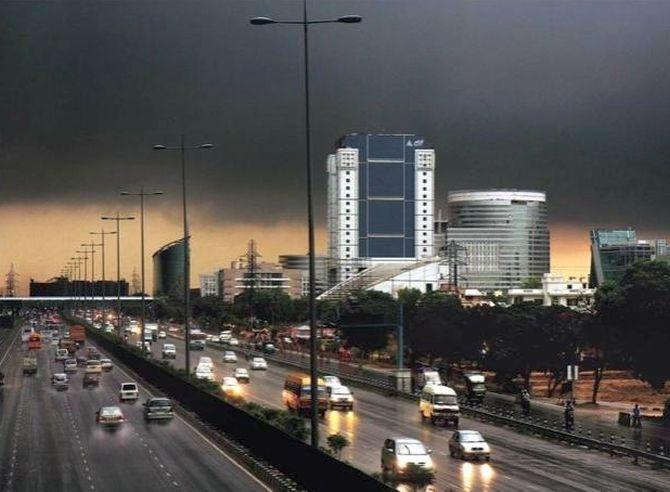 Image: Infinity Towers in Gurgaon.
Photograph: Jeet221990/Wikimedia Commons
Rank: 3
The advent of financial and manufacturing companies has transformed the once sleepy town of Gurgaon into a city that has the third highest per capita income in India. The remarkable transformation has brought half of Fortune 500 firms to the city.
Noida
---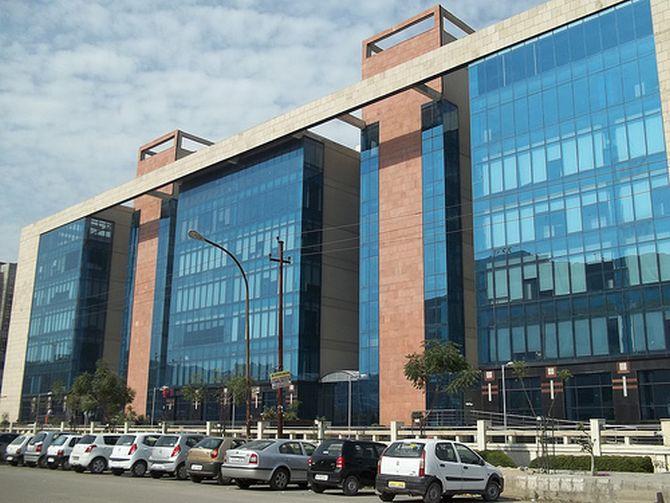 Image: An IT Park in Noida.
Photograph: Sunil Kumar/Wikimedia Commons
Rank: 4
If Gurgaon has financial services companies, Noida has prospered with major Information Technology companies setting up shop here. Some of them include IBM, TCS, WIPRO, HCL, Tech Mahindra, and Adobe Systems.
The city has prospered thanks to its proximity to Delhi and presence of special economic zones.
It has become a model for growth in the state of Uttar Pradesh. In fact, the Noida model is now being replicated across various cities in the state.
Chennai
---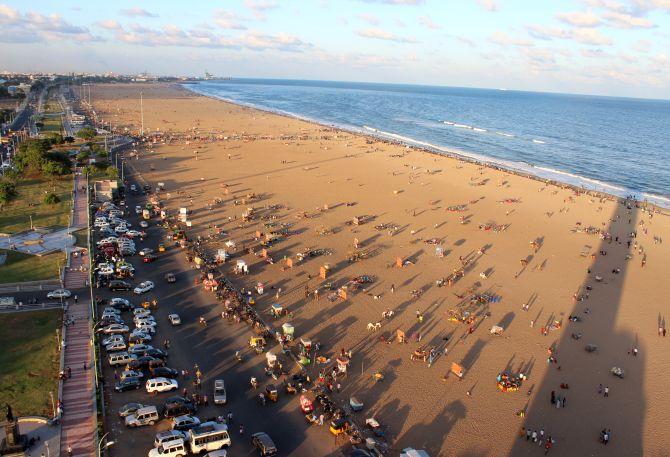 Image: The view of India's longest urban beach, Marina Beach from a light house.
Photograph: KARTY JazZ/Wikimedia Commons
Rank: 5
Tamil Nadu's capital, Chennai, is the sixth most populous city in India. It is a hub of automobile, technology, hardware manufacturing and healthcare industries.
Hyderabad
---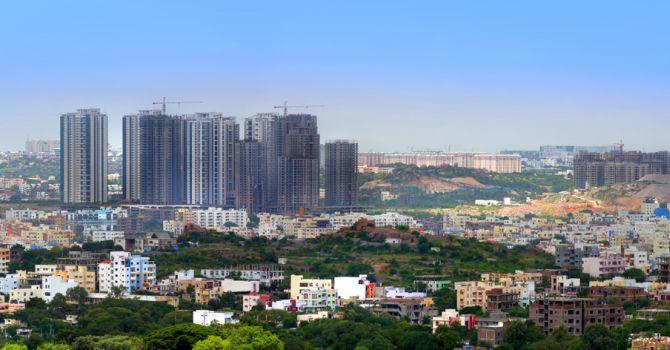 Image: Hyderabad skyline.
Photograph: Yedla70/Wikimedia Commons
Rank: 6
India's fourth most populous city, has transformed itself into cosmopolitan industrial service centre with the growth of information technology (IT), IT-enabled services (ITeS), insurance and financial institutions.
Bengaluru
---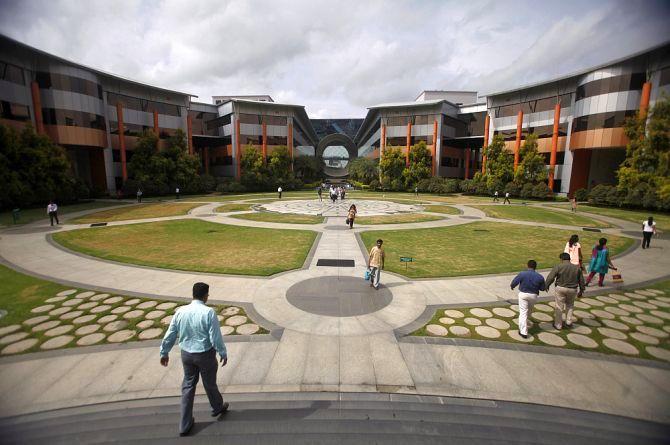 Image: Employees walk in front of a building dubbed the "washing machine", a well-known landmark built by Infosys at the Electronics City IT district in Bangalore.
Photograph: Vivek Prakash/Reuters
Rank: 7
Known as the 'Silicon Valley of India', Bengaluru is nation's leading Information Technology exporter. It is also one of the fastest growing metropolises in the country.
Kolkata
---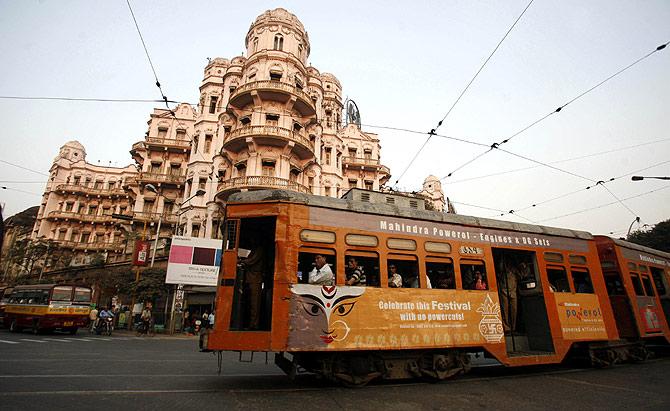 Image: A tram passes beside a heritage building in the eastern Indian city of Kolkata.
Photograph: Jayanta Shaw/Reuters
Rank: 8
An important commercial, cultural, and educational hub in east, Kolkata houses many public and private-sector corporations in sectors suchs as steel, mining, cement, pharmaceuticals, agriculture and electronics.
Pune
---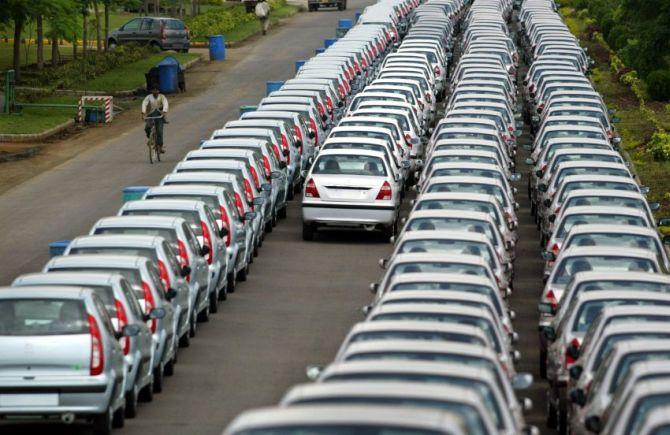 Image: New cars awaiting despatch at Tata Motor's plant in Pune.
Photograph: Punit Paranjpe/Reuters
Rank: 9
Known as the cultural capital of Maharashtra, Pune has transformed itself as a major IT destination in the past decade thanks to the presence of quality colleges and universities. Due to it's proximity to Mumbai, it has also attracted many major auto firms such as Tata Motors and Mercedes-Benz.
Ahmedabad
---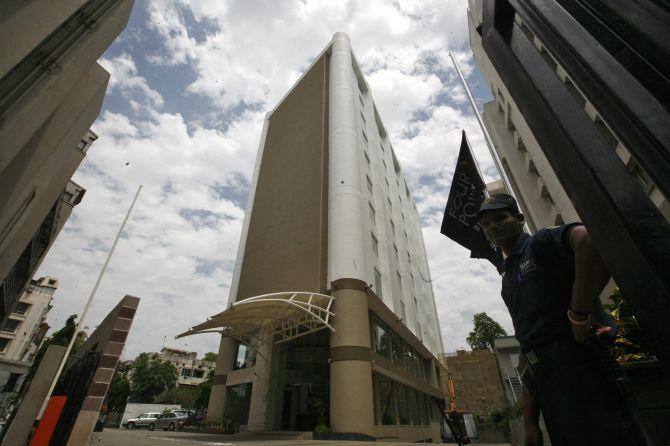 Image: A private security guard stands outside a business park in Ahmedabad.
Photograph: Amit Dave/Reuters
Rank: 10
The city has a flourishing textile industry and is also attracting several automobile companies. It has also featured in Forbes' list of fastest growing cities of the decade (ranks 3rd).