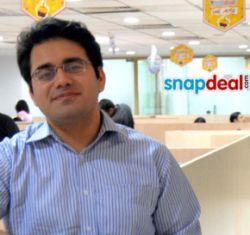 E-commerce company Snapdeal has raised $100 million (Rs 600 crore or Rs 6 billion) in a new round of funding, a day ahead of the reported announcement of merger of rivals Flipkart and Myntra.
Market estimates value Snapdeal at $1 billion (Rs 6,000 crore or Rs 60 billion), a little less than Flipkart's $1.6 billion (Rs 9,600 crore or Rs 96 billion).
In the latest round of funding, sixth for Snapdeal, Singapore-based Temasek and Hong Kong's Myriad are investing for the first time in Indian e-commerce.
The two have also invested in China's e-commerce giant Alibaba.
This year has seen 19 investment deals in Indian e-commerce of $497 million, according to financial research service VCCEdge against 60 deals of $592 million last year.
Other investors in this round of funding for Snapdeal are BlackRock, PremjiInvest and Tybourne.
In February, Snapdeal raised $133 million (Rs 800 crore or Rs 8 billion) from its old investors, led by US e-tailer eBay.
Last year, key rival Flipkart had raised $360 million (Rs 2,160 crore or Rs 21.60 billion)) in two rounds in less than three months.
Kunal Bahl, co-founder and chief executive, Snapdeal, said commitment to pure marketplace (the format it follows, in which merchants can sell directly to shoppers, as opposed to the inventory model) is the distinguishing factor of the company.
"I have always said the pure marketplace is the way forward in India. We registered a year-over-year growth rate of 600 per cent, with a headcount growth of mere 10 per cent, which validates our model," said Bahl.
Global e-commerce players such as ebay and Alibaba also use the a marketplace model.
In India, US' Amazon, the world's largest online retailer, has chosen the marketplace model, as foreign direct investment is not allowed in inventory-led e-commerce.
Ross Gan, director, strategic and public affairs, Temasek, said in an email to Business Standard, "As a market, India offers investment opportunities that are consistent with our themes. E-commerce is a good proxy for a growing middle-income population."
Snapdeal boss Bahl said the company would continue to focus on increasing its seller base to up to 100,000 in the next 12 months.
The company has about 30,000 sellers now. It also plans to invest in technology and hire engineers. Snapdeal gets about half of its orders through mobile phones and m-commerce will be the key thrust area for the company.
The company is expected to launch an initial public offering in the next two years.