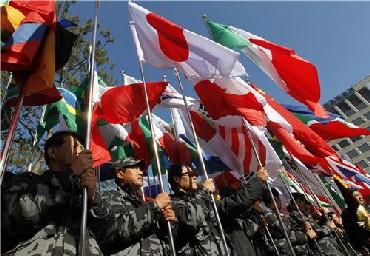 Sharing of tax information and pushing global economic growth by an additional 2 per cent in the next five years will be a part of agenda at the Brisbane Summit of the G20 leaders to be held in November.

"Sharing information across taxation jurisdiction is very important. . . we need to make sure that global taxation system is in line with the requirements of the 21st century," said Australia's G20 Sherpa Heather Smith while speaking about the agenda of the summit.

The other key issues to be taken up at the summit, which is expected to be attended by Prime Minister Narendra Modi, will include raising the global GDP by an additional 2 per cent in the next five years and boosting infrastructure sector funding.

"We are trying to deliver the 2 per cent target. "We have some good commitments
about competition policy and about infrastructure funding and we would like to see more commitments in removing barriers for trade facilitation," she said.
The preparatory work for the summit of G20, which is a grouping of developed and developing nations, is on and the G20 secretariat is reported to have received about 700 ground level strategies to boost global economic growth.
Of these about 200-300 are new measures.
The G20 Summit is scheduled at Brisbane on November 15-16. It will be preceded by separate ministerial level meetings of Labour and Employment and Finance.
Smith further said that the G20 will also focus on the issues dear to India like energy security, food security and financial inclusion.
India at several international fora has been pressing for automatic sharing of tax information with a view to preventing erosion of revenue and deal with the menace of black money.