The deal comes at a huge cost to minority shareholders who have till date lost close to Rs 5,500 crore that were written off United Spirits' books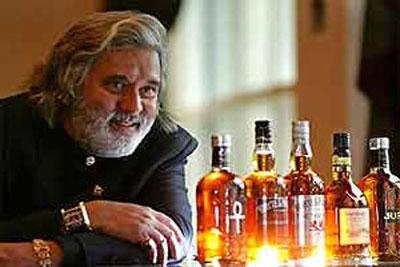 British liquor giant Diageo and Vijay Mallya, chairman of the UB group, on Thursday signed a settlement that absolved the latter of civil claims over diversion of funds from United Spirits to other UB group firms, including Kingfisher Airlines.
But, the transaction raises questions on the governance standards followed by the British company in India and whether United Spirits shareholders will ever receive their money from the Mallya entities.
The deal comes at a huge cost to minority shareholders who have till date lost close to Rs 5,500 crore (Rs 55 billion) that were written off United Spirits' books.
Though insiders say they will take steps to recover around Rs 1,300 crore (Rs 13 billion) lent to UB entities, it's anybody's guess whether the money will ever flow back to US, considering that Mallya owes Rs 7,200 crore (Rs 72 billion) to Indian banks.
Last April, the United Spirits board had made serious accusations against Mallya and asked him to resign. Since acquiring control of United Spirits, Diageo allowed Mallya to chair the board and let the then chief financial officer, a Mallya appointee, to continue and rewarded him with a bonus even as the board refused to sign-off on its accounts.
"It was only after the accounts were brought to the board the third time around and the company took a writedown on loans of over Rs 2,000 crore (Rs 20 billion) did the board present these facts to shareholders," said Hetal Dalal of proxy advisory firm, IIAS. "Not just that, Diageo supported Mallya being re-appointed chairman even as a forensic audit was under way," he said.
"The red flags were all over. But Diageo and United Spirits looked the other way for reasons best known to them," said a corporate lawyer.
There are also question marks over a suit filed by the State Bank of India against United Spirits in the Karnataka High Court for default by the UB group. Corporate lawyers say it will not be easy for United Spirits to stay away from the legal quagmire because of Thursday's deal.
Another question being asked by shareholders is what happens to the series of investigations initiated by stock exchanges, the Securities and Exchange Board of India and the ministry of corporate affairs on the accusations made by United Spirits last April of books being cooked.
Corporate lawyers say the company directors who were on the board when the manipulation took place will be held liable even if they quit later.
"In past cases, the company's directors who quit the board were held responsible," said R S Loona, senior partner of Alliance Corporate Lawyers, a Mumbai-based corporate law firm.
United Spirits said it would continue to help the investigations as and when asked.
In an announcement to the stock markets last April, United Spirits leveled serious charges of lack of corporate governance and fund diversion against Mallya based on an investigation by PriceWaterhouse UK.
Mallya hit back saying the accounts were certified by PriceWaterhouse's Indian entity before Diageo took over, and that the same auditing firm could not later accuse its arm over financial irregularities. Whether the Institute of Chartered Accountant of India looks into PriceWaterhouse's role in this is another question that needs to be answered.
Diageo's takeover of United Spirits has come at a huge cost to the British company with a dent in its corporate governance practices and, of course, a lot of cash.
The British giant signed the deal with Mallya in 2012 after a long courtship that began in 2008. Diageo spent months conducting due diligence before buying a controlling stake in United Spirits in July 2013.
It also had access to details of all related-party transactions made by Mallya's companies. As United Spirits breaks free from Mallya, the big question is whether the Diageo-Mallya tango is finally over.