If companies get into trouble, the loan becomes a non-performing asset and "we very much want these assets to be back on track," Raghuram Rajan said.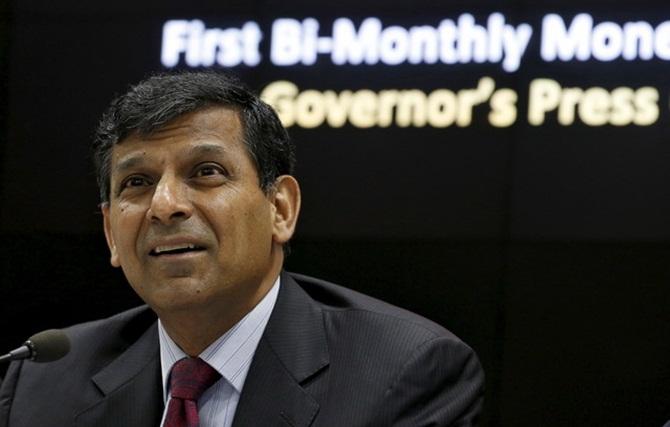 Amid raging controversy over loan defaults by corporates, RBI Governor Raghuram Rajan has said the issue of bad loans gets "loaded with a lot of morality" and it is necessary to keep criminal liability separate for putting the stressed assets back on track.
"What's happening on the NPA front...this becomes loaded with a lot of morality, are these good people, bad people. I think one should take out the morality from the NPA clean-up," he said delivering the Inaugural Kotak Family Distinguished Lecture at Columbia Law School in New York.
He was asked whether the non-performing assets (NPAs or bad loans) were a concern for him given that some "big names and big companies" in India are linked to the problem.
The Reserve Bank Governor said the NPA clean-up is simply about whether the loan is "performing or not performing. It may have become non-performing simply because you had terrible luck or somebody else's fault. Somebody canceled your licences, didn't give you approvals on time, your partner didn't perform. There could be all sorts of reasons why companies get into trouble".
If companies get into trouble, the loan becomes a non-performing asset and "we very much want these assets to be back on track," he said.
"It is a completely separate issue of who to blame and whether there is criminal liability involved. In some fraction of the cases there may be criminal liability involved. That should be separated from the whole issue of putting the assets back on track," he said.
Asserting that the "asset is not a criminal", he said the asset can produce value and can function. "It should be allowed to produce value even while there is a separate case going on if there was criminal activity involved," he said.
Rajan emphasised that the government has said very clearly it will not interfere in the process of granting loans and "I think that is a very important development. The next stage has been on trying to improve the administrative structure in the banks".
Rajan said last part of the post-tantrum stabilisation agenda has been to clean up the stressed assets in the banking sector in order to ensure banks have the room to lend again.
"We do want to have our banks get their money back. For that we need a proper bankruptcy system, a court system that functions in finite time and we didn't have that in the past," he said.
He expressed hope that "there is reasonable chance" that the bankruptcy code bill will be passed soon and that will ensure a fully functioning system "where you can renegotiate outside of bankruptcy but the shadow of bankruptcy keeps you from getting away with too much either on the banking side or the promoter side."
On FDI inflows, Rajan said India is this year on its way to "our highest ever inflow of FDI".
While the government has removed most of the impediments to inviting FDI, he said there is still "some hesitancy" on part of the foreign investors with the retrospective tax case on Vodafone. "This is an unfortunate thing that happens when you focus" on a few iconic instances.
Prime Minister Narendra Modi and Finance Minister Arun Jaitley have said very clearly that there will be no retrospective taxation, he informed the audience.
Since the Vodafone case is already in the judicial system, to pull it back right now, "it would look like something was not a problem. That's my view of it. It has to follow the natural course," Rajan said.
Vodafone still has not paid "a penny" of what was demanded but it is not as if it is in great difficulty as a result of what happened. "In fact they are investing more in India," he said.
People look at "iconic reforms" like the Goods and Services Tax (GST) and at privatisation and feel that these two are the measures of "whether you are reforming.
"There is a lot happening that people are paying less attention to," he said citing the example of the Aadhaar programme.
"Things are moving. Things are changing. FDI is coming in. FDI makes money in India unlike elsewhere," he said adding that the Prime Minister has "rolled out the red carpet" for investors through his visits abroad.
Rajan emphasised that while India is growing at a good pace, it has the potential to do even better.
"Despite our growing much faster than the rest of the world, the real issue is the rest of the world is growing fairly slowly. Not that we are growing that fast, this (growth) is reasonable by our historical standards but not spectacular," he said.
He cited Jaitley's remarks that India is capable of faster growth. "One should not think this is it," he said, adding that while India is doing relatively well, the "ideal" will be if the world picked up and grew much more strongly.
He pointed out that India grew very fast between 2003 and 2012 at about 8 per cent. "What happens when you grow at that pace is sometimes we grow fast enough to outrun the institutions you had for slower growth. We hadn't grown at that pace before in our history. We outran things like acquiring resources," he said.
Since the financial crisis, India has been engaged in a process of rebuilding the institutions, rebuilding transparency in allocation of resources and creating a modern monetary framework, he said.
On inflation, he said the most recent figure for the month of March stood at 4.8 percent, which was below the 5 per cent target set by RBI for March 2017 and on track towards the four per cent targeted after that. "One of the virtues of getting a low and stable inflation rate is that it will also stabilise the currency."