Corporate leaders said since the law and evidence gathering is vague, it's time for the government to set up a quasi-judicial body to adjud­icate on all these cases before any Sebi em­p­loyee passes an order.
When Biocon chairperson Kiran Majumdar-Shaw — well known for raising issues ranging from lack of civic services in Bengaluru to climate change — decided to take on the Indian stock market regulator, the Securities and Exchange Board of India (Sebi), she forced the Indian corporate world and legal community to take notice.
In an interview to Business Standard, Majumdar-Shaw called a Sebi order to impose a fine on insider trading charges against a Biocon employee and an external consultant an "Agatha Christie" fiction, which destroyed the reputation of "innocent people".
"The order is pure harassment and has caused huge reputational damage to us and goes against the principles of good governance promised by this government," Mazumdar-Shaw said.
"We will certainly appeal this," she added.
In its July 8 order, Sebi whole-time member Madhabi Puri Buch directed Allegro Capital, a broking outfit, and its owner Kunal Kashyap, to disgorge over Rs 25 lakh and imposed a penalty of Rs 10 lakh each for dealing in Biocon shares while in possession of price-sensitive information.
Sebi also imposed a one-year ban, apart from freezing their existing holdings.
The case dates back to January 2018, when Biocon had announced an exclusive global collaboration with Sandoz on next generation bio-similars.
The company's shares had shot up nearly 6 per cent following the announcement.
Allegro Capital and Kashyap are not part of the Biocon group, but Sebi alleged that Kashyap was in frequent communication with officers of the company.
Kashyap was a director on the Mazumdar Shaw Medical Foundation (MSMF), which funds research at Narayana Health, and Biocon officials used the broking outfit.
The Sebi order said Kashyap was allotted employee stock option schemes (ESOPs) by Biocon, which "shows that the company values his contribution and that there exists a professional relationship between them".
But Kashyap was allotted bonus shares and was never given ESOPs by Biocon, Mazumdar-Shaw said.
In a separate order, Sebi had passed strictures against Shreehas Tambe, deputy chief executive officer of Biocon Biologics, and imposed a fine of Rs 2 lakh for dealing in shares of the company while being in the know of the Sandoz deal.
According to Mazumdar-Shaw, Tambe had sold his shares to settle his housing loan, and that too when the trading window was open.
Besides, he was not privy to any information, she added.
Sebi regulations define "insider" as a company associate who is trading in the company's shares based on unpublished price sensitive information (UPSI) to make a quick buck.
As the price sensitive information is not released to the rest of the investors, this gives an edge to the insider and is punishable.
The "insider" can be anyone who was associated with the company six months prior to the insider trade and who can be a company's director or employee/close relative, or a legal counsel/banker/valuer to the company and so on.
Legal experts said proving insider trading ca­ses is a difficult task — considering that there is no direct evidence available with Sebi.
"In many cases of insider trading, direct evidence such as a telephone call recording may not be av­ailable with Sebi so it may have to prove its case looking at the surrounding circumstances, particularly the relation or connection of the ac­cused person with the company and its key management people, directors and other insid­e­rs.
"But the most critical factor for determining the charge of insider trading will always be the trading pattern during the relevant period," said R S Loona, managing partner of Alliance Law.
Sebi's track record of punishing the big fish has been dismal so far, however.
In the recent past, apart from Biocon, the regulator has also taken action against Infosys and Sun Pharma officials.
Its order against Future Group chairman Kishore Biyani and his family and NDTV co-founder Prannoy Roy, after 12 years of alle­ged trading, is pending in the courts (see chart).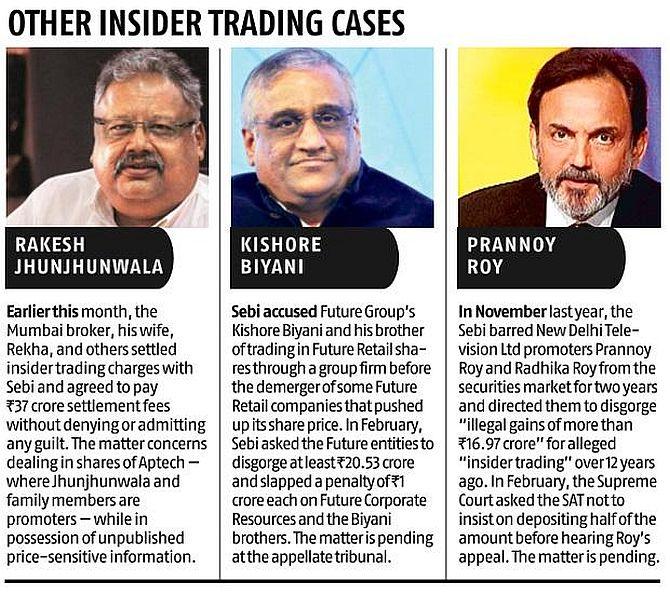 In Biocon's case, the company seems to have taken a stand, that the show cause notice neither identifies any communication by Biocon that establishes passing on unpublished sensitive information nor has any notice been issued to other employees of Biocon, who have allegedly passed on this information to Kashyap.
"There is also an allegation that the show cause notice does not satisfy the basic ingredients to identify somebody as an insider under the Sebi regulations.
"If this is true, then I agree with Mazumdar-Shaw.
"One cannot lose sight of the fact that any unsubstantiated allegation does harm the reputation of the corporate and the individuals involved.
"It will be interesting to see how the case pans out before the higher forums," said Ruby Singh Ahuja, senior partner at Karanjawala and Co.
But other lawyers say Sebi is in the right.
"Mazumdar-Shaw continues to believe that the order causes sheer harassment and reputation damage to the company and its executives, but Sebi in its capacity did the right thing by calling out and penalising insiders.
"However, thorough due diligence must be conducted by both parties to prove their point, and in this case Sebi has held a strong stance in identifying and penalising offenders of law in the spirit of good governance promised by the government," said Sonam Chandwani, managing partner at KS Legal & Associates.
Corporate leaders said since the law and evidence gathering is vague, it's time for the government to set up a quasi-judicial body to adjud­icate on all these cases before any Sebi em­p­loyee passes an order.
"In order to avoid any embarrassment to any party and contain any harassment from the regulator, all the orders of the regulators must pass quasi-judicial scrutiny.
"This will be a win-win solution for all," said a corporate veteran, requesting anonymity.