The Supreme Court observed on Tuesday it is more concerned about the risk factors than anything else when it comes to the conditional approval granted by the Centre for environmental release of genetically modified (GM) mustard.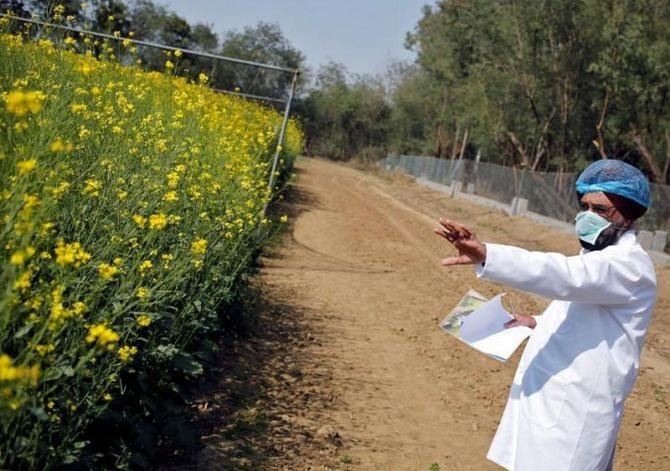 On October 25 last year, the Genetic Engineering Appraisal Committee (GEAC) under the Union environment ministry had approved the environmental release of transgenic mustard hybrid DMH-11 and the parental lines containing barnase, barstar and bar genes so they can be used for developing new hybrids.
The apex court is hearing separate pleas by activist Aruna Rodrigues and NGO 'Gene Campaign' seeking a moratorium on the release of any genetically modified organisms (GMOs) into the environment pending a comprehensive, transparent and rigorous bio-safety protocol in the public domain conducted by agencies of independent expert bodies the results of which are made public.
The matter came up for hearing on Tuesday before a bench of Justices Dinesh Maheshwari and B V Nagarathna.
Attorney General R Venkataramani, appearing for the Centre, referred to the timeline of conditional approval for environmental release of transgenic mustard hybrid DMH-11 and said all relevant aspects were deliberated upon and considered.
"In fact, it is the risk factors which concerns us more," the bench observed during the hearing which will continue next week.
In its additional affidavit filed in the top court in November last year, the Centre had said this conditional approval has been made after a "long and exhaustive regulatory review process" which had commenced in 2010.
The affidavit said the Centre has taken the decision on environmental release after "in-depth" consideration of all aspects of bio-safety and health hazards.
During the arguments in the matter last month, the apex court had asked the Centre whether there was any compelling reason for the environmental release of GM Mustard failing which the country will be doomed.
The Centre had told the top court that the opposition by activists, experts and scientists to GM crops is "ideological" rather than based on scientific rationale.
The Centre had said the government has followed all regulatory processes as per the framework recommended by the Technical Expert Committee (TEC) appointed by the court.
Advocate Prashant Bhushan, appearing for Rodrigues, had submitted that the seeds of GM mustard have started germinating after their environmental release and before the plants start flowering in a few weeks they must be uprooted to prevent the environment from getting irreversibly contaminated.
At a meeting on October 18 last year, the GEAC, the country's regulator for genetically modified organisms, recommended the environmental release of mustard hybrid DMH-11 for seed production and testing "as per the existing ICAR guidelines and other extant rules/regulations before commercial release".
The transgenic mustard hybrid DMH-11 has been developed by the Centre for Genetic Manipulation of Crop Plants (CGMCP) at Delhi University.
The government has so far approved only one GM crop- Bt cotton- for commercial cultivation in 2002.