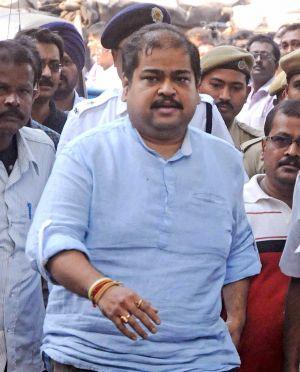 Former Trinamool Congress member of Parliament Srinjoy Bose, who was arrested by the Central Bureau of Investigation in connection with the Saradha scam and later granted conditional bail, on Saturday visited the CBI office in Kolkata for further interrogation.
CBI sources said Bose was interrogated for more than three hours.
It was his first visit to the CBI office after getting bail.
He was given bail by the Alipore district sessions and judges court on February 4 on the conditions that he would appear before the CBI whenever called for interrogation and would not leave the country.
Bose had resigned from TMC and also as its Rajya Sabha MP a day after he was released.
Image: Trinamool Congress MP and businessman Srinjoy Bose being produced at a city Court by CBI officials in connection with multi-crore Saradha chit fund scam, in Kolkata. Photograph: PTI Photo