In Parekh, an IIT-Bombay and Cornell University alumnus, Infosys may have finally found a person who will grab the market opportunity with good execution.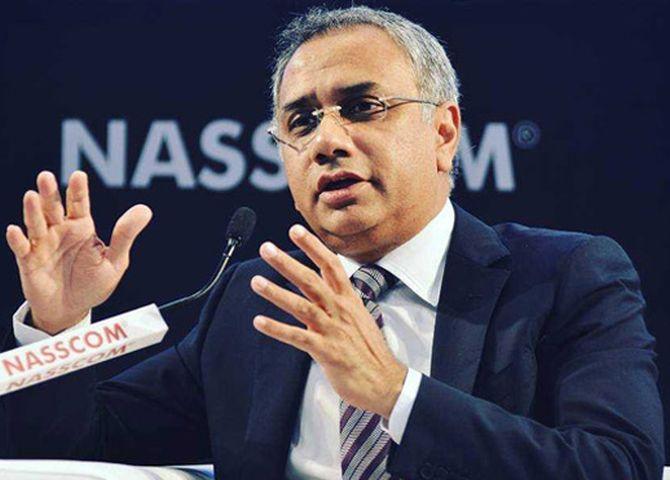 In October this year, Infosys non-executive chairman Nandan Nilekani defended former chief executive officer Vishal Sikka's philosophy: "Strategy is not a PowerPoint presentation. It is about how you translate it on the ground, with scale and speed."
Nilekani might have found the right person in Salil S Parekh to execute the vision of software-led services model for Infosys that Sikka developed.
Parekh, a soft-spoken, grown-from-the-ranks executive, has built the offshore delivery capability at Capgemini, the French IT services firm. He grew the firm's India team from 800 people to 80,000, and acquired iGATE Corporation. He also helped Capgemini compete with Indian IT service providers in costs.
Of the 17 years he spent at Capgemini, Parekh, 53, spent 15 years executing the vision of its chairman and CEO Paul Hermelin in India. Having lost out in the race to succeed Hermelin, Parekh quit as deputy CEO.
He seems to be a natural fit for Infosys.
In 2014, when Infosys founder N R Narayana Murthy led a global search to find a CEO, Parekh's name had cropped up. Sikka won the top job but later developed differences with Murthy over running the Bengaluru-headquartered company, and quit.
Before leaving, however, Sikka understood the shifts in the markets and invested in training the Infosys workforce to address the challenges.
In Parekh, an IIT-Bombay and CornellUniversity alumnus, Infosys may have finally found a person who will grab the market opportunity with good execution. He also understands the culture of an India-led organisation, having spent most of his work life in the country.
Parekh's colleagues at Capgemini claim he is the right fit for the role.
"He focuses on details and has delivered what Capgemini expected of him. Parekh has also seen the market shift towards newer technologies and digital," said a colleague at Capgemini, who did not want to be named. "He is a team builder. He knows how to navigate differences and get people to agree and deliver."
It is not just delivery, but acquisitions that Parekh has successfully integrated. The biggest was the 35,000-member team of iGATE. He also acquired Kanbay, a US firm that had delivery centres in India, the captive unit of Unilever in Chennai, and Thesys Technologies, a banking software services firm.
His understanding of captives as well as how global MNCs work in India, could give Infosys an opportunity to go after business with its delivery model.
As Infosys looks to the future, Parekh might need help. Murthy and his co-founders left the ship soon after Sikka took over. Nilekani might have to guide Parekh to settle down, while at the same time help him execute his vision.
Photograph: Kind courtesy, Capgemini/Instagram.