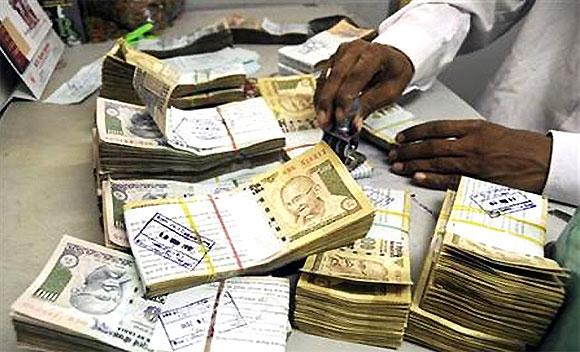 The Reserve Bank of India (RBI) will have to take far more pro-active steps to rebuild forex reserves, because if the status quo remains, rupee could touch 75 per US dollar by the end of 2014, Bank of America Merrill Lynch said in a report. According to the global financial services firm, the collapse of rupee is likely "overdone" but that said "INR expectations are racing to Rs 70/USD (and now, even Rs 75/USD)."
If the status quo remains, BofA-ML said "a conservative estimate is USD/INR goes to 70 year-end and 75 by-end 2014 based on NDF forward pricing." NDF deals are forward transactions settled in dollars because the rupee, being a non-convertible currency, cannot be 'delivered' outside India.
The rupee on Wednesday had collapsed to a lifetime low of 68.85 against the dollar and closed at 68.80, registering its biggest single-day loss of 256 paise, as global oil prices jumped, deepening concerns about the current account deficit and capital outflows.
The rupee today however, recovered from its all-time low by rising 170 paise to 67.10 against the dollar in early trade on fresh selling of the US currency by exporters and banks amid fresh measures announced by the RBI to check free-fall of the currency.
RBI on Wednesday opened a special window to help the three state-owned oil marketing companies needing about $8.5 billion every month meet their daily foreign exchange requirement in a bid to check the rupee's free fall.
"We welcome yesterday's initiatives to provide RBI swaps to fund oil imports and seek swap lines against trade arrangements as short-term relief. Yet, to stabilise INR expectations, we believe that the Reserve Bank of India (RBI) will have to take far more pro-active steps to rebuild FX reserves," the report said.
The RBI should launch a scheme to attract significant forex inflows where the INR risk would be borne by the RBI to comfort investor confidence like issue of NRI or sovereign bonds or reviving FCNRA deposits.

"We ourselves estimate that the RBI would be hard pressed to sell $25 billion, and every US Dollar sold will likely only raise further questions about the adequacy of forex reserves," the report noted.