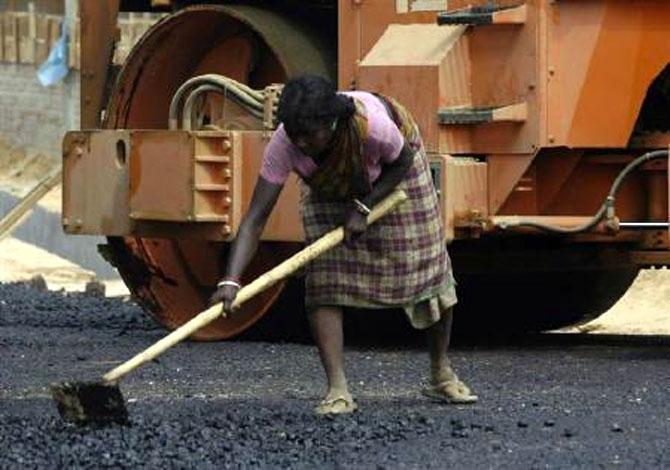 Most of these road contracts are spread across Andhra Pradesh, Haryana, Karnataka, Odisha, Rajasthan, Tamil Nadu, Uttarakhand and West Bengal, with the government struggling to restart them.
About Rs 8,600-crore worth of national highway projects undertaken by key construction players such as Larsen & Toubro, Gammon and Era are stalled after partial progress. The government is struggling to break a gridlock and get these restarted.
These include 10 highway contracts totalling 787 km and valued at Rs 8,661.37 crore. Officials said though they cannot give up on the efforts to revive the projects, these had become 'chronic' cases. The projects have been impacted by issues such as land acquisition, lack of environment and forest clearance and other local issues. Some also blame overzealous companies.
The companies that bagged these projects 'overestimated' the revenue potential and they 'overextended' their balance sheets for these contracts, an analyst who did not wish to be named, said.
These road contracts are spread across Andhra Pradesh, Haryana, Karnataka, Odisha, Rajasthan, Tamil Nadu, Uttarakhand and West Bengal.
For instance, L&T Infrastructure Development Private Ltd, a subsidiary of Larsen & Toubro, is constructing a 43.4-km Chennai-Tada highway that is being funded by the Canada Pension Plan Investment Board. The project, part of the Golden Quadrilateral project between Chennai and Kolkata, has been delayed on account of land acquisition issues. Rating agency ICRA downgraded the loan for the Rs 419-crore project after concessionaire L&T Chennai Tada Tollway (a special purpose vehicle executing the project) defaulted on loan payment.
Another project that has been languishing for a while and has missed several deadlines is the Gurgaon-Kotputli-Jaipur National Highway 8.
Road Minister Nitin Gadkari had said the project was delayed by at least five years due to land acquisition issues and poor planning. Pink City Expressway Pvt Ltd is engaged in the construction and upgrade of the four-lane highway into a six-lane one. It is a special purpose vehicle incorporated by KMC Constructions Ltd, Emirates Trading Agency LLC and IKSHU Infrastructure Private Limited.
The Rs 1,896.25-crore project is being executed on a build-operate-transfer basis. IDBI Bank is the lender to the project connecting Delhi and Jaipur.
Experts said as there wasn't enough liquidity in the system, the companies that bagged these projects were finding it extremely difficult to execute these.
The Haridwar-Dehradun highway expansion in Uttarakhand, despite being a tourist circuit, is also languishing. The concessionaire for the project is Era Infra Engineering. The project is on a public-private partnership.
In some cases, the National Highways Authority of India has been able to replace contractors. Last year, it approved the substitution of Gammon Infrastructure Private Limited by Brookfield India Holding Pvt Ltd for the stalled Vijayawada-Gundugolanu road project in Andhra Pradesh and Telangana, after a policy initiative of the government.