Following a strong performance in the 2022-23 January-March quarter, publicly listed paint industry giants displayed a mixed performance in the 2023-24 (FY24) April-June quarter.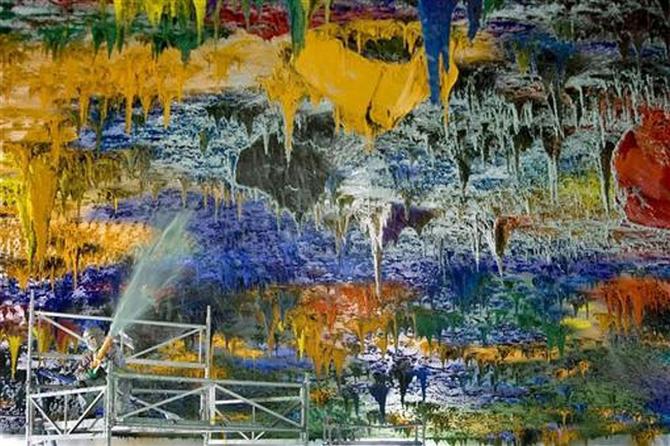 While Berger Paints India outperformed its peers and reported results in line with expectations, market leader Asian Paints and Kansai Nerolac Paints fell slightly short of expectations.
In terms of profitability, all paint companies experienced an expansion in margins, attributed to lower raw material costs and an improved product mix.
The companies witnessed a rise of 400-540 basis points (bps) in gross profit margins, and operating profit margins expanded by 300-500 bps.
In contrast to the March quarter, during which Kansai Nerolac exhibited the strongest growth rates, Berger Paints outperformed its competitors in the June quarter.
The consolidated revenue growth for the second-largest player in the decorative paint segment stood at 10 per cent year-on-year (y-o-y), surpassing Asian Paints' 6.7 per cent growth and Kansai Nerolac's 5 per cent increase in sales.
Berger Paints also outperformed its rivals in terms of volume growth, experiencing a 12.7 per cent uptick in the decorative segment.
Meanwhile, Asian Paints and Kansai Nerolac achieved growth rates of 10 per cent and 8 per cent, respectively.
Although July saw a decrease in demand due to monsoons, the company anticipates a rebound in demand with the onset of the festival season.
It projects to conclude FY24 with double-digit revenue growth, driven by a positive demand outlook linked to the progress of the monsoon and increased infrastructure spending.
Benefiting from favourable raw material costs, the company has revised its margin guidance from 16–17 per cent to 17–18 per cent, particularly for the upcoming quarters.
However, a significant surge in raw material costs could potentially disrupt these expectations.
Nomura Research has raised its earnings per share estimates for FY24 by 10 per cent and 2024-25 (FY25) by 7.3 per cent to factor in the first-quarter beat and improved margin outlook.
Despite this, it maintains a 'reduce' rating on the stock due to elevated valuations (55x its FY25 earnings), taking into account the forthcoming competitive challenges, as stated by analyst Mihir Shah of the brokerage.
The leading player in the market achieved a consolidated revenue growth of 6.7 per cent y-o-y, falling short of estimates.
Despite a high base of 37 per cent, the decorative paint volume grew by a strong 10 per cent.
Realisations were 2 per cent lower due to an emphasis on the economy and premium segments, with the luxury segment facing headwinds.
The company noted an improvement in the rural segment, which now closely aligns with urban growth.
While its growth rate moderated somewhat, the margin performance exceeded expectations, emerging as the best among peers.
The company recorded a gross and operating profit margin expansion of 502–523 bps, driven by reduced raw material costs, an improved product mix, and efficient sourcing.
Asian Paints has guided for an 18–20 per cent margin trajectory.
Although some brokerages maintain a 'neutral' or 'reduce' rating on Asian Paints, Nuvama Research holds a positive outlook.
Despite Grasim's entry into the market seven months later, analysts at the brokerage remain optimistic about Asian Paints due to its formidable entry barriers and best-in-class research and development efforts.
Kansai Nerolac achieved a 6.5 per cent revenue growth, with high single-digit growth in decorative volume.
Within the industrial segment, robust growth in the automotive (auto) segment, primarily driven by passenger vehicles, was evident, and the non-auto segment also experienced traction.
Gross margins surged by 539 bps, while operating profit margins increased by 298 bps.
Prabhudas Lilladher Research has revised its FY24 earnings estimates upward by 7.1 per cent.
It remains favourable on the stock, citing steady growth in the decorative segment, a recovery in two-wheeler demand, and a promising growth outlook for non-auto industrial paints.
While concerns surrounding margins have subsided (unless there is a further surge in crude oil prices) and demand remains stable, the Street remains cautious about the industry's future due to increased competitive pressures and the ability of companies to sustain revenue growth.
According to research analysts Pratik Bipinchandra Prajapati and Tanu Jindal from Motilal Oswal Research, "With the entry of new players with deep pockets and massive commitments to investments, the industry as a whole may see a shift in demand and margin structure due to heightened competition."
---
Disclaimer: This article is meant for information purposes only. This article and information do not constitute a distribution, an endorsement, an investment advice, an offer to buy or sell or the solicitation of an offer to buy or sell any securities/schemes or any other financial products/investment products mentioned in this article to influence the opinion or behaviour of the investors/recipients.
Any use of the information/any investment and investment related decisions of the investors/recipients are at their sole discretion and risk. Any advice herein is made on a general basis and does not take into account the specific investment objectives of the specific person or group of persons. Opinions expressed herein are subject to change without notice.