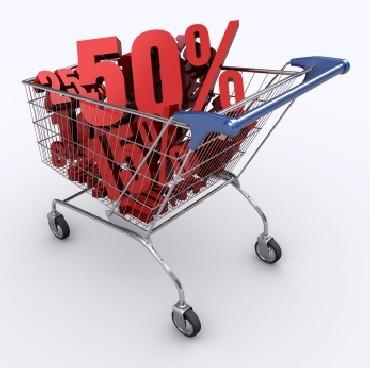 Retailer bodies to demand govt action against I-Day sales offers, threaten legal action for breach of FDI rules.
Premium jacket advertisements in newspapers, constant pop-ups on computer monitors and a stream of notifications on mobile phones.
Amazon, Snapdeal and Flipkart, the three big e-commerce companies, have again with their Independence Day sales started a discounting war.
While the online sales could continue through the upcoming festivals and stretching to the new year, trader bodies plan to complain to the department of industry policy and promotion that these companies are flouting the foreign direct investment norms.
However, till there's any government crackdown, the portals are outdoing each other in gaining traction and customer stickiness.
But Biyani is unfazed
Kishore Biyani's Future Group is expecting to double its sales from a five-day shopping event called 'Maha Bachat'. This coincides with a discount bonanza from top online players.
The group is aiming for Rs 1,000 crore of sales from the event, scheduled for August 13-17, up from last year's Rs 500 crore, a source said. About 300 brands are participating in the discount fest. The group has come out with ad campaigns where chief executives of brands such as Paper Boat, Delmonte and Prestige are featured.
"We have back-to-back holidays for three days, unlike in the previous year," said a Future group executive. He said Future's sales were different from online retailers, "as we offer a wide assortment".
It has tied up with Axis Bank, which will give five to 10 per cent as cashback. And, with Paytm which will give 15 per cent cashback and Bajaj Finserv which will offer free shopping to 100 winners a day.
Hypercity, owned by Shoppers Stop, has an 'Annual Home and Happiness Festival' which will focus on food, home and fashion. It will offer a flat 60 per cent off on a wide range of apparel and footwear and 50 per cent on home products. It expects high double digit sales growth during I-day sales.
"This independence month festival at Hypercity is not just about special deals but all about offering a great experience to the customer by coupling exemplary service with exciting deals and new launches," said Manoj Jain, head of marketing.
Reliance Retail and Aditya Birla More also say they expect to show significant growth at I-Day weekend sales.
-- Raghavendra Kamath
Amazon.in was the first one to announce I-Day sales, offering discounts of 20 to 60 per cent on all its product ranges. It is also promoting its newly launched 'Prime' service, providing various deals if one opts for those.
After 24 hours of sales, the company said Day 1 of the 'Great Indian Sale' was the biggest ever for Amazon India. 'Customers flocked Amazon.in to grab deals right from the word go, with the first 100,000 units sold at midnight. Several categories celebrated their biggest day ever, including large appliances (5x), software (10x), computer accessories (4x), toys (2x), kids apparel (5x), among others,' it stated.
Gurgaon-based online marketplace Snapdeal also launched its 'Wish for India' sale, offering an almost 80 per cent discount on products. Its biggest rival, Flipkart, would start its 'Freedom Sale' on Wednesday and would have a slew of product launches as well.
Irked by these massive sales and alleging gross violation of FDI norms, which clearly state online entities cannot influence pricing in any way, trade bodies are planning to approach the government on this issue on Wednesday.
Praveen Khandelwal, secretary general, Confederation of All India Traders, said: "They are openly flouting DIPP guidelines. We have asked our legal team to prepare a complaint, which we will submit tomorrow. They are supposed to be technology providers but are they not influencing price with these full-page advertisements? If DIPP does not do anything, we will start a long-drawn legal battle with these firms."
"Nowhere in these advertisements does it give the name of the sellers who are giving discounts. The government knows what is happening and sooner or later, these companies will be investigated. If they are flouting rules, the Enforcement Directorate or the Economic Offences Wing should look into it," said Kumar Rajagopalan, chief executive, Retailers Association of India.
"Sellers are being forced to toe these marketplaces' line and offer discounts. Or suffer with no visibility. The sellers who are getting visibility are paying through their noses," said a spokesperson of All India Vendors Association.