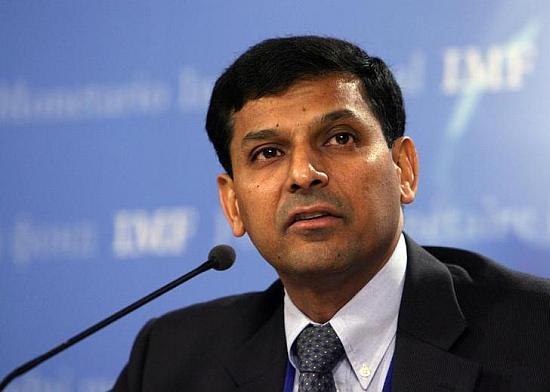 The RBI held interest rates steady at 7.75 percent on Tuesday after easing monetary policy just three weeks ago, leaving its next move probably until after the government presents its annual budget at the end of this month.
Instead, the Reserve Bank of India cut the statutory liquidity ratio (SLR) - or the amount of bonds that lenders must set aside - by 50 basis points to 21.5 percent of deposits from the two-week cycle starting on Feb. 7 in a bid to spur banks to inject more credit into the economy.
Key Points:
*RBI keeps repo rate unchanged at 7.75 percent, reverse repo rate at 6.75 percent
*RBI cuts banks' SLR by 50 basis points to 21.5 percent of total deposits from fortnight starting Feb. 7
*Says appropriate to maintain current interest rate stance and wait given that no substantial new developments on disinflationary process or on fiscal outlook
*Says heightened volatility in global financial markets including through exchange rate channel constitute significant risk to inflation assessment
*Says inflation likely to be around target level of 6 percent by Jan 2016
Commentary:
Deven Choksey, Managing Director, Kr Choksey Securities:
"I think the policy was more in line with the expectations. The 50 basis points cut in SLR is symbolic, but I think it is a positive move. This will provide additional liquidity for banks and will help banks to increase lending.
"We do expect the RBI will reduce the rates sooner, which will fuel growth in core sectors like infrastructure and manufacturing."
Sandeep Nanda, Chief Investment Officer, Bharti Axa Life Insurance, Mumbai:
"By and large the policy has been on expected lines. Nobody was expecting a rate cut. The RBI wants to take a look at the government's numbers in the budget before thinking further. If current trends in commodity prices and India's fiscal deficit prevail, then one can expect another round of easing after the federal budget."
R. Sivakumar, Head Of Fixed Income, Axis Asset Management:
"The rate action is more or less expected. We have also been expecting there will be some movement on SLR over a period of time.
"The interesting bit will be rule changes on Foreign Institutional Investors, which would have some impact on the corporate bond market. We continue to expect the RBI to cut another 50-75 basis points in this calendar year, and the current statement is fairly in line with its recent guidance."
Market Reaction:
*10-year benchmark bond yield gained 3 basis points (bps) to 7.68 percent after RBI policy review
*Rupee trimmed gains to 61.76 per dollar, was at 61.67 before
*The Nifty turned negative, down 0.1 percent, had been up 0.1 percent earlier
One-year overnight indexed swap rate gained 9 bps to 7.55 percent after RBI holds rates steady - traders
Background:
A Reuters poll of economists last week expected the central bank, having cut interest rates on Jan. 15, to keep its benchmark repo rate unchanged at 7.75 percent at Tuesday's policy review.
Retail price inflation tumbled to 5 percent in December, auguring well for the RBI's chances of achieving its target of 6 percent by January 2016.
Analysts expect the central bank to cut rates by 100 basis points over the next 1-1/2 years.
The forecasters said future moves could depend on the government's annual budget in late February.
They expect Finance Minister Arun Jaitley to set a deficit target of 3.8 percent of gross domestic product for fiscal 2015/16 during the budget, lower than this year's 4.1 percent target.
(Reporting by Mumbai Treasury Desk)