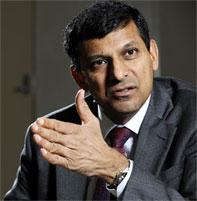 The Reserve Bank of India (RBI) is limiting the country's reliance on foreign debt and will continue to do so, governor Raghuram Rajan said on Tuesday.
"We are limiting our reliance on foreign debt. It's important we keep it this way," he said during a speech to university students.
Rajan's comments came at a time when foreign institutional investors have nearly exhausted their $25 billion allocation in government debt, leading to expectations that India would raise limits soon.
Rajan also said the RBI had reduced the current account deficit "substantially".
The current account deficit for April-June stood at $7.8 billion, sharply higher than $1.3 billion in January-March but narrowing from $21.8 billion a year ago.