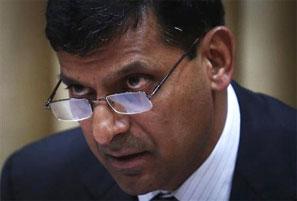 Reserve Bank Governor Raghuram Rajan on Tuesday said the 0.50 per cent reduction in key rate is to ensure strong and sustainable growth, and was driven primarily by its preconditions being met and the weakness in external environment.
"The conditions we had laid out have been broadly met except monsoon. . . We have also seen some dramatic reduction in external environment, including China has had a tremendous effect on commodity prices including on oil prices and its prospects," Rajan told reporters after the monetary policy announcement.
RBI cut the lending rate by a surprising 0.50 per cent, terming it as a 'front-loaded' action but affirmed its commitment to the accommodative stance it adopted in January.
Rajan also made it clear that the RBI has not been 'excessively aggressive' with the rate call and it should not be misconstrued as a bonus ahead of the Diwali festivities.
"We have used what room we had, I don't think we were excessively aggressive. We weren't throwing Diwali bonus.
"Given the state of the economy, how can we move it forward," he said.
After the clarity on meeting the January 2016 target of containing inflation under 6 per cent, Rajan said the focus now needs to shift to squeezing it further to 5 per cent by early 2017.
He acknowledged the difficulties in meeting the target, but made it clear that it is 'imminently feasible' and drew attention towards the success in bringing down inflation by two percentage points in the last one year.
The Governor said help from the government is very crucial, and welcomed the support being given through keeping the minimum support prices of grains lower and initiating other supply side measures.
On inflation, Rajan expressed concerns on pressures emanating on the services front, where we have seen prices of education and healthcare go up considerably.
He also said that it is difficult to gauge the supply in this sector, unlike other ones.
For growth, where the RBI has cut its estimate by 0.20 per cent to 7.4 per cent, Rajan said increasing the investments is very crucial.
"The capacity utilisation, the first factor which leads to more investment, is still very tepid and. . .suggest there is room for more domestic demand which will be non-inflationary and it would create more investment.
"We need to restart investment. Corporate investment has been weak," he said.
Image: RBI Governor Raghuram Rajan. Photograph: Reuters