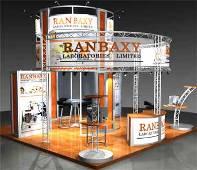 In a major reprieve to Ranbaxy, an American court has dismissed a petition from rival pharmaceutical firm Mylan to challenge the former's exclusive marketing rights over the generic version of Pfizer's Lipitor.

Mylan had sued the United States Food and Drugs Administration for providing the exclusive right to Ranbaxy, alleging the permission was given on the basis of 'falsified data'.

Opposing Mylan's stand, the FDA said the company's complaint was premature and the agency's enforcement discretion was not reviewable by a court.

Agreeing, the court dismissed the petition, though it did not bar Mylan from seeking a judicial remedy at a future date.

Ranbaxy is expected to launch its generic Lipitor on November 30 under a settlement
deal with Pfizer.
It is entitled to remain free of competitors for 180 days, as the first company to apply to sell a cheaper version of the world's best-selling prescription medicine.
Lipitor's global sales were $10.73 billion in 2010, with US sales of $5.33 bn. Ranbaxy, 64 per cent owned by Japanese drug major Daiichi Sankyo, said it welcomes the court verdict.
Ranbaxy is awaiting a final approval from the US FDA before it can launch the generic version of Lipitor in June.