Schools closed for a day, crops damaged; more downpour on cards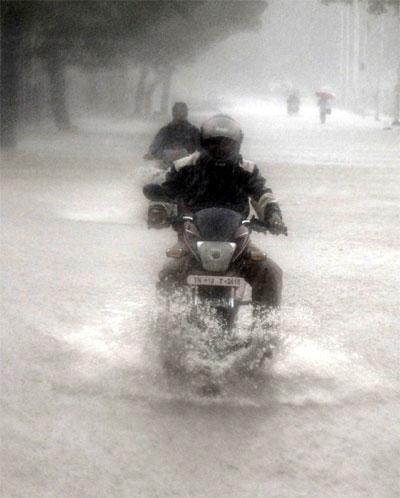 Factories of more than half a dozen automotive companies near Chennai were affected on Monday, with employees failing to report to duty after the city saw severe waterlogging due to incessant rain.
Some information technology (IT) companies, too, declared a one-day holiday.
Renault-Nissan, BMW, Daimler India Commercial Vehicles, Yamaha, Ford, Ashok Leyland and Royal Enfield were forced to remain shut. Isuzu had to suspend construction at its greenfield plant in neighbouring Andhra Pradesh because of the downpour.
Spokespersons of Nissan Motor India and Ford India confirmed the companies had to suspend production as roads remained submerged. Some factories said waterlogging at the factories was the problem, other said their employees could not reach the plants due to rains.
Officials refused to give details of the extent of impact the rain could have on the industry. But vehicle supplies are expected to be affected in the coming days, given that dozens of factories supplying auto component have also been affected.
Mahindra & Mahindra and Hyundai factories remained operational. "Our factory is near the Bangalore highway where the impact of rain is not much. Most of our workers stay near the factory itself," a Hyundai Motor India spokesperson said.
The IT companies that declared a holiday on Monday were Cognizant, Wipro, Verizon and Tech Mahindra. Schools and colleges were also closed and several examinations have been rescheduled as the state continued to be lashed by rains for almost three days.
Press Trust of India said 71 people have been killed so far. Other reports put the death toll at 100. The state government has evacuated people living in low-lying areas.
Chief Minister J Jayalalithaa has announced Rs 500-crore (Rs 5 billion) relief to the affected. The rains are predicted to be strong for three more days.
Trains continued to run late and many were redirected or cancelled. Suburban train services were disrupted as tracks, roads and subways were inundated.
The effect of the rains inflated vegetable prices. Tomatoes cost Rs 70 a kg, up from Rs 28 a week ago; onions Rs 100 a kg from Rs 30-40. The cost of a kilo of lady's finger has gone up by 50 per cent.
Standing crops in many parts of the state have been destroyed due to the rain. In Sirkazhi, sugarcane crops over 350 acres have been affected while short-term paddy crops ready for harvest have been inundated at Vedaranyam.
Fishermen did not venture into the sea for a fourth consecutive day.
The India Meteorological Department, Chennai, on Monday said isolated heavy to very heavy rain was expected in the northern parts of Tamil Nadu and Puducherry till Tuesday morning.
Tamil Nadu is one of the three most populous auto manufacturing hubs in India (Haryana and Maharashtra being the other two) and has an annual production capacity of 3.55 million units.
Submerged rail tracks and inundated motor subways and arterial roads crippled all transport options. Companies will now be forced to make up for the loss in production by keeping production lines open on Saturday and Sunday.