Experts say the party is undoing what it achieved through MNREGA by targeting beneficiaries
Illustration: Uttam Ghosh/Rediff.com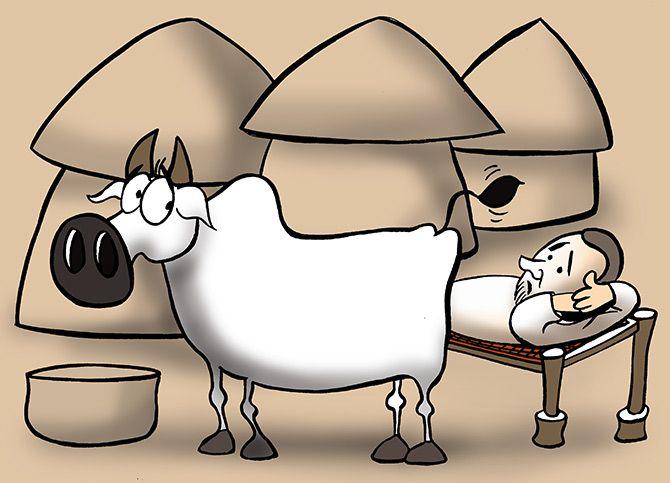 The Congress should come up with maths to fulfil its President Rahul Gandhi's promise of the Nyuntam Aay Yojana (NYAY) to provide Rs 6,000 to 50 million families a month to show its commitment, say economists.
They said identifying the beneficiaries would create problems.
Gandhi had on Monday announced the Congress, if it came to power after the Lok Sabha polls, would ensure a flat Rs 72,000 per year to 250 million poorest of the poor families.
This means additional expenditure of Rs 3.5 trillion, which constitutes almost 1.9 per cent of the country's gross domestic product (GDP).
Former principal economic advisor to the government Ila Patnaik told Business Standard the Congress should make it clear upfront as to how it would implement the scheme.
"Where is the money going to come from? Will the taxes be raised or subsidies be cut?" she asked.
Major subsidies, comprising those on food, fertiliser and petroleum, are projected to stand at Rs 2.66 trillion in the current financial year and Rs 2.96 trillion in FY20, according to Budget documents.
Lord Meghnad Desai said, "It would be better if the entitlements such as the Mahatma Gandhi National Rural Employment Guarantee Act (MGNREGA), food subsidy, and kisan yojana (announced in this year's Union Budget) could be united in a single basic income package. But no one will ever have the courage to scrap any existing subsidy."
That said, it is a welcome idea, Desai said.
"At 1.9 per cent of GDP, it could be affordable but what is being given up? There should be a shadow budget showing how the rest of the public expenditure is to be met," the economist said.
Households are assumed to be of five members each, but this may not be valid, he said, adding small families would get more than large ones.
"So if it is ?6,000 per month to a household there is an incentive to break up the household into two to get double the money. Even if this is not done, large families are disadvantaged so their poverty is not alleviated," he pointed out.
He said a better way would be to ask by how much the allowance moves the income of an individual below the poverty line to $2 a day (Rs 140) - the World Bank poverty line.
Former planning commission member Abhijit Sen too asked, "Where will the money come from? Either through taxes or cuts in expenditure."
He said across the political spectrum this idea of cash transfers seemed to have caught on.
Former chief statistician Pronab Sen said, "It will depend on your ability to tax the rich and then transfer. This goes against entire narrative of low taxes."
Indira Rajaraman, a member of the 13th Finance Commission, said NYAY was a return to the pre-MGNREGA external targeting.
"The great advantage of the MNREGA design was self-targeting.
"A return to external targeting will carry all the usual problems of wrongful inclusion and wrongful exclusion," she said.
Abhijit Sen said the only idea that made sense was universal cash transfer.
"It does not distort and is easy to implement. But at our level of income, you can give peanuts as the idea is very expensive, which is why they are asking for targeting.
"This is problematic as the process of targeting is leaky."
Former chief economic advisor Shankar Acharya said, "I am sceptical whether it is a great idea. It will have fiscal consequences unless large subsidies are done away with, which I doubt."