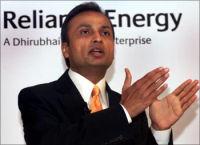 Reliance Infrastructure, which has bagged the Rs. 5,100-crore (Rs. 51 billion) Worli-Haji Ali sea link project, is currently in talks with ICICI Bank for a Rs. 2,000-crore (Rs. 20 billion) loan comprising $250 million of external commercial borrowings and the balance rupee loan.
The interest rate for the proposed loan would be 10 per cent. The company is expected to achieve a financial closure within next two months.
The project was awarded by Maharashtra State Road Development Corporation to the company in February 2010.
Of the Rs. 5,100 crore (Rs. 51 billion), Rs. 1,634 crore (Rs. 16.34 billion) is the one-time upfront payment to the state government to take over the existing Worli-Bandra sea link and construct the 7.2 km new sea link.
According to the concession agreement, R-Infra would have to build the new sea link in 42 months.
As reported, R-Infra received a major relief after the Maharashtra government, following its meeting held last week
with Minister of State for Environment and Forests Jairam Ramesh, made it clear the project was on.
This would be part of the Rs. 34,000-crore (Rs. 340 billion) Garland Freeway project proposed for Mumbai by the state-run MSRDC.
Reliance Infrastructure spokesman said: "The company is engaged in crucial negotiations with ICICI Bank for the rupee loan and ECB totalling Rs. 2,000 crore (Rs. 20 billion)," he said.
Simultaneously, the company has requested MSRDC to complete various activities with regard to execution of the state support agreement between the state government, MSRDC and R-Infra's SPV Reliance Sea Link One.
Besides, the company has also called upon the MSRDC to issue toll notification and issue government notification on the payment of grant.
The company is going ahead as per the provisions of the concession agreement. The concessional agreement has been executed between MSRDC and Reliance Sea Link One Pvt Ltd.
This agreement is a contractual agreement binding both the government and the company for their respective responsibilities and obligations.