The reason why private banks will play the deposit pricing game strategically is the weakening of banks' deposits base given the competition from MFs and insurance companies due to tax-savings schemes.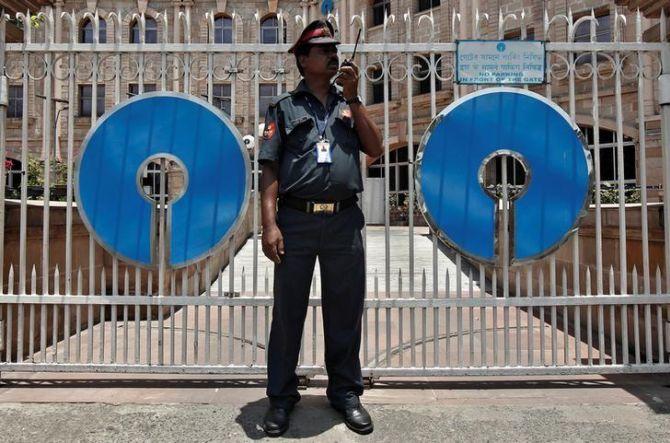 The State Bank of India's move to slash deposits rates ranging between 20 basis points (bps) and 75 bps across tenors may offer private banks a window to corner relatively cheaper term-deposits.
While they may follow the SBI's lead, it is unlikely that they would try to match the country's largest bank while cutting their deposit rates.
On Monday, the SBI cited surplus liquidity and a falling interest rate scenario to rejig its deposit rates. Effective August 1, the bank will cut its rates by 50-75 basis points (bps) on time-deposits of up to 179 days duration; and for longer tenors, by up to 20 bps in the retail and 35 bps in the wholesale segment (Rs 2 crore and above).
Private banks had cut their deposit rates by 25 bps a fortnight ago after the Reserve Bank of India (RBI) Governor, Shaktikanta Das, called for a meeting of their chief executive officers (CEOs) on the 25th of this month; it has now been rescheduled for August 2.
In the intervening period, Das met the CEOs of state-run banks and sought better transmission of its policy rate cuts, especially on the fresh loans vend by them.
"It is unlikely that private banks will cut rates to the same extent after the SBI's move on Monday. They have been growing their books and need the deposits, and will, therefore, price it slightly higher than state-run banks. It also a good way to ensure that mutual funds (MFs) do not get a look in," said Madan Sabnavis, chief economist at CARE Ratings.
The reason why private banks will play the deposit pricing game strategically is the weakening of banks' deposits base given the competition from MFs and insurance companies due to tax-savings schemes -- this is structural and it has played out over FY18 and FY19.
This has affected the bank's term deposits (both retail and wholesale), even though there has been good growth in current and savings accounts (Casa). While the latest granular numbers are not available, non-deposit avenues (bonds and refinancing) formed 30 per cent of the bank's incremental deposits in FY18 versus their 11 per cent share in FY17.
The Reserve Bank of India's (RBI's) report on the Trend and Progress of Banking (2018-19) pointed out that an overwhelming share of deposits with banks has always comprised term-deposits -- especially in the one-to-two-year maturity buckets -- because of higher returns across comparable financial assets.
But starting from FY17 -- which was outlier -- the share of Casa surged five percentage points above the five-year average on account of the return flow of funds after demonetisation, especially into state-run banks. In FY18, this growth in Casa deposits moderated in both state-run and private banks while it increased in foreign banks.
Said the RBI report, 'Term-deposits grew concomitantly, although returns on term-deposits turned unattractive relative to other competing asset classes such as MFs and pension funds.'
The latest cut by the SBI on deposits may, however, not lead to a flight to MFs, given the woes faced by the sector, which is a development of more recent vintage, but it is also equally true that private banks may not follow suit to the same extent.
Remonetisation resulted in a deceleration in deposits and consequently, borrowings by banks shot up by 31.4 per cent during 2017-18 from a significant decline (11.6 per cent) in the previous year. In H1:2018-19 as well, banks stepped up borrowings by 26 per cent y-o-y.
The cost of deposits for state-run banks in FY18 stood higher at 5.1 per cent compared to 4.9 per cent for private banks even as the former's cost of borrowings during this period was lower at 4.7 per cent compared to private banks 6.2 per cent. As for the spread, it was lower for state-run banks at 2.5 per cent when compared to private banks at 3.6 per cent.
The SBI's deposit rate cut on Monday comes in the run-up to the RBI's policy review slotted for August 7 when the central bank is expected to cut policy rates significantly, by at least by 50 basis points.
Photograph: Rupak De Chowdhuri/Reuters.