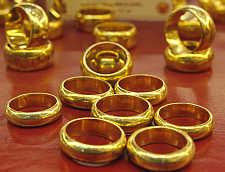 India's top private banks might soon exit from the gold coin business. ICICI Bank and Axis have already halted fresh imports of the yellow metal and are planning to suspend sale of gold coins at their branches once the existing stock is sold out.

The moves follow the Reserve Bank of India's directive restricting gold import by banks on a consignment basis.

"RBI has imposed restrictions on gold imports by banks. Hence, we are discouraging sale of gold coins in our branches. For all practical purpose, the business is as good as suspended," a senior executive of Axis Bank told Business Standard requesting anonymity.

Gold import has been a huge concern for both the government and the central bank, and is considered to be one of the main reasons for India's widening current account gap. In the quarter ended December 2012 the current account deficit expanded to a record high of 6.7 per cent of the
gross domestic product.
While the government has ruled out a blanket ban on gold imports, it is making efforts to curb demand for the yellow metal.
In a recent meeting with chiefs of public sector banks, Finance Minister P Chidambaram had asked them to stop gold coin business.
According to bankers, private banks have started scaling down the business in the past couple of months. HDFC Bank is now offering gold coins only to its existing customers, with a prior banking relationship.
Small and mid-sized private banks are also in the process of exiting this business.
"We are contemplating suspension of this business. We are not taking any fresh stock of gold. We will probably continue this business till our existing stock, around three to four kg, lasts," said N Kamakodi, managing director of City Union Bank.
Some non-banking finance companies have also halted sale of gold coins. Reliance Capital, one of the largest players other than banks in the segment, said it had suspended this business.